Biafra: Our Peaceful Protest Won't Be Guaranteed If Anything Happens To Nnamdi Kanu – IPOB Threatens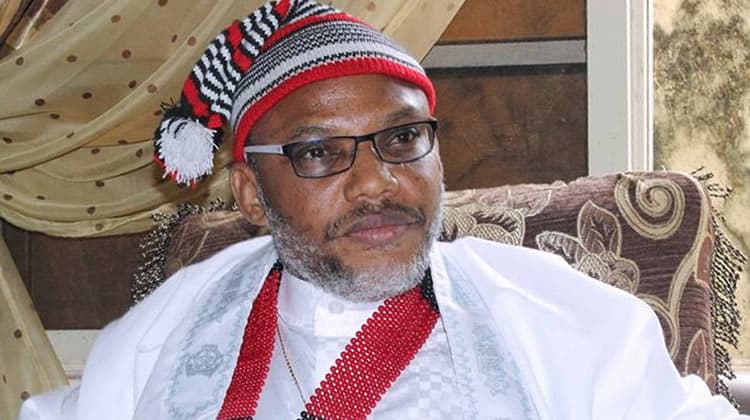 The Indigenous People of Biafra ( IPOB) has threatened that its protest toward Biafra independence might no longer be a peaceful one if anything happens to its leader, Nnamdi Kanu in the custody of the Department of State Service (DSS).
The separatist group insists that the health of its leader keeps deteriorating daily inside DSS solitary confinement, yet the agency claims he is fine.
It maintained that if anything happens to Kanu in DSS custody, it will "be a tit for tat" towards anybody behind the kidnap and extraordinary rendition of its leader from Kenya to Nigeria.
Naija News reports that the warning was contained in a statement issued on Saturday by the spokesman of IPOB, Emma Powerful.
According to the group, it has so far maintained a peaceful and nonviolent stance in its movement and struggles to restore Biafra, but the narrative might change in case anything happens to Kanu.
The IPOB reiterated that Kanu's medical needs can't be met in DSS custody while alleging that the DSS lied about his health because it has not improved while in custody.
Powerful submitted that "The attention of the global movement and family of the Indigenous People of Biafra, IPOB, under the able leader, Nnamdi Kanu, has been drawn to the insulting and provoking statement credited to the infamous DSS agents that Kanu is being properly taken care of inside their dungeon by the lawless DSS criminal agency.
"Again, we want Biafrans, Nigerians, and the International Community to know that the Nigerian Department of State Services (DSS) has continued to deny Kanu access to his doctor as ordered by the court, and has not provided him with his medical records either.
"He is not being provided with his prescription medication regularly. Kanu is still being starved because his feeding has also not improved.
"Our leader's health is deteriorating daily inside DSS solitary confinement, while DSS continues to defy the judgment and legitimate orders of courts of competent jurisdiction.
"The spurious claim therefore by the lawless DSS that Mazi Nnamdi KANU is properly being taken care of medically is not just an insult to the sensibilities of Biafrans, but very provocative as well.
"IPOB has maintained a peaceful and nonviolent stance in our movement and struggles to restore Biafra, and we intend to continue the peaceful agitation for a Biafra Independence referendum.
"But this peaceful struggle will not be guaranteed if anything happens to Kanu in the DSS dungeon. If anything untoward happens to our leader in the hands of the Nigeria government and DSS, it will be a tit-for-tat towards any individual, group, and institution that is involved in the kidnap and extraordinary rendition of our leader from Kenya to Nigeria and much more."