We Will Find Out If Nnamdi Kanu Was Poisoned On Monday – Family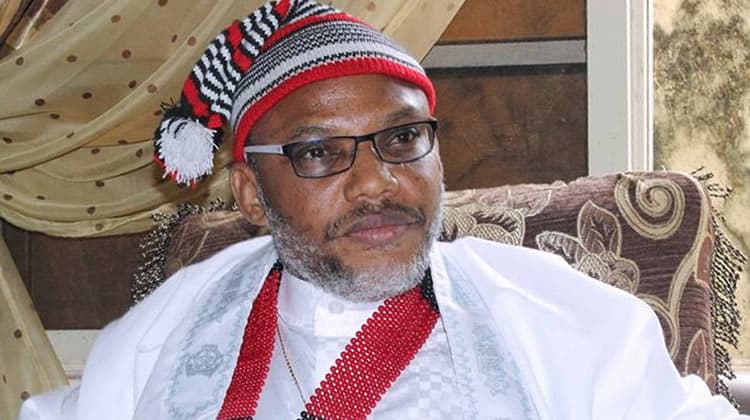 The family of the detained Leader of the Indigenous People of Biafra (IPOB), Mazi Nnamdi Kanu, has urged members of the public to disregard rumours claiming that the IPOB leader has been poisoned.
Naija News recalls that a voice note making the rounds on social media claimed that Kanu had been poisoned in detention, urging 'Biafrans' to go on a rampage in protest.
Reacting to the voice note, a younger brother to the IPOB leader, Prince Emmanuel told Vanguard that he met with his Kanu last Thursday at the Abuja headquarters of the Department of State Services (DSS) where he is currently detained and there was no indication that he had suffered from such an ordeal.
He maintained that the embattled activist did not inform him that he was poisoned when they met last Thursday but promised that he would find out more about the situation when they meet on Monday, January 30,
Kanu's brother wondered how the story of the alleged poisoning began and cautioned against fake news.
He subsequently warned  Kanu's supporters again taking the matter into their hands but to remain calm as he hoped to see and hear from his brother again on Monday.
Kanu's brother had posted on his Facebook page the outcome of Thursday's meeting with him.
The post read: " I Met with Mazi Nnamdi Kanu in the company of Evangelist, and Barr Nnaemeka Ejiofor, at Department of State Services, Abuja.
"As always, we focused more on victories recorded and the way forward. He maintained that this struggle for liberation remains a collective fight and thanked those who have not betrayed the struggle.
"He said Nigeria has continuously flouted the orders of her own court and such will never be tolerated in IPOB. Those who attack this noble structure were not there when it was built and can never be brought down
"This movement is divine. To me, IPOB is a huge achievement for our people and for men and women of good conscience . We have come that humanity may be set free".