'Action Appaling' – Group Slams Melaye Over Mockery Of Tinubu's Health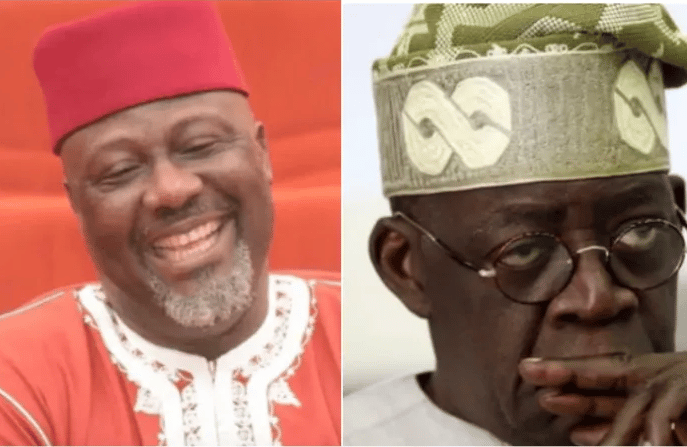 Social Rehabilitation Group (SRG) has condemned former lawmaker, Senator Dino Melaye for mocking the All Progressives Congress (APC) presidential candidate, Bola Tinubu, during a presidential campaign rally.
Naija News reported earlier that Melaye, during the Peoples Democratic Party (PDP) presidential rally in Delta State, became a jester and made dance moves to mock the health condition of the APC presidential candidate.
The event, which happened in the presence of the PDP vice presidential candidate, Governor Ifeanyi Okowa, and other party chieftains, has since generated a series of reactions.
Recall that Melaye is one of the spokespersons for the PDP Presidential Campaign Organization (PCO).
Reacting to the development in a statement on Wednesday, SRG National Coordinator, Marindoti Oludare, describe Melaye's action as appalling and should be condemned by all Nigerians.
Oludare asserted that it was disgusting for the PDP to be making jest of people living with health conditions, adding that the action shows that PDP is a travesty of a party.
The statement reads: "I just saw a video of PDP making jest of Asiwaju's health condition. We all know brother Dino didn't know better. But the vice-presidential candidate of the PDP, Governor Aminu Tambuwal, Dr Andy Uba and other PDP stalwarts found this show of shame amusing.
"This shows that PDP is a travesty of a party. These are a bunch of crass ass politicians. They feel it's right to make jest of people living with health conditions. 
"There are Nigerians whose fathers, mothers, and children have died of a stroke. Two of my friends last year had a heart attack. Two have had a stroke that they recovered from, and they are in their mid-30s.
"But PDP feels the pains and suffering of these people with medical conditions are amusing. They are amused with people with polio, people with cerebral palsy, and people with tremors. They think it's funny."