2023: Atiku Has Been Meeting With APC Governors In Dubai – Wike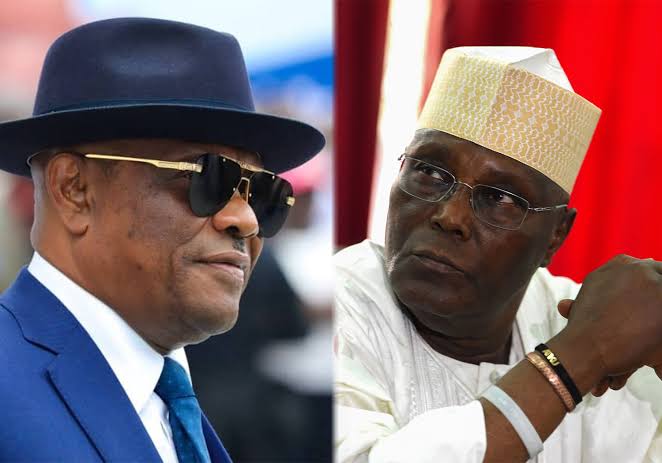 Governor Nyesom Wike of Rivers State has accused the Presidential candidate of the Peoples Democratic Party (PDP), Atiku Abubakar, of holding secret meetings with governors of the ruling All Progressives Congress (APC).
Naija News reports that governor Wike made the accusation on Friday during the flag-off of the construction of Eneka-Igbo Etche Road in Port Harcourt, the state capital.
The Rivers governor said the former Vice President met recently with some APC governors in Dubai, United Arab Emirates (UAE) in order to persuade them to support his 2023 presidential bid.
Wike also claimed that Atiku has failed to keep to his promise of not having the PDP presidential candidate and the party's chairman from the same region (North).
He asserted that he and the G5 governors have the right to meet with anybody, adding that PDP members shouldn't be interested or worried about who he met with.
He said: "Just to unwind is a problem to some people. Some people say they have moved on; don't bother about G5.
"Why is he bothered about where we go to or where we don't go to? We go to a club, you're worried. We go and sleep, you're worried. Yet, you tell Nigerians you don't bother.
"There say there is trouble. There is no trouble. What we have is the introduction to trouble that will come.
"They said we had meeting with so and so. What is your problem? Assuming there was a meeting, has Atiku not been holding meetings with governors of APC? Ask him. As he is in Dubai, don't we know what is going on? So, why do you bother about us? G5 that you said you can win without us; leave us alone.
"I am not someone who will go and see somebody and hide. Hide for who? Who is that person that will threaten me?"
Obasanjo As President Knelt Before You
Governor Wike also alleged that Atiku, as the vice-president, made Obasanjo kneel before him so that he could have a second term in the run-up to the 2003 election.
He stated, "You forget history. In 2002 and 2003, when President Olusegun Obasanjo wanted to run for a second term, a whole President knelt down before his deputy and said, 'My vice, please allow me to run. You know one of the conditions he (Atiku) gave him? That Tony Anenih must be sacked as minister of works and that he must not be in the presidential campaign council. Obasanjo obliged.
"This one, we are not even giving such conditions; we are saying give us the national chairman and you say, 'No, we will not listen to you people, don't give us conditions'. This is something touching on the foundation of the unity of the country."
He also promised to remain in the party, adding, "I have never left the PDP since 1998; I will never. Even when they came to destroy the PDP, I remained to serve the PDP. So how can this kind of character come and tell me that I should not destroy the PDP; the PDP he destroyed?"