'He Has Misused His Powers' – Atiku Campaign Knocks Wike Over Sealed Secretariat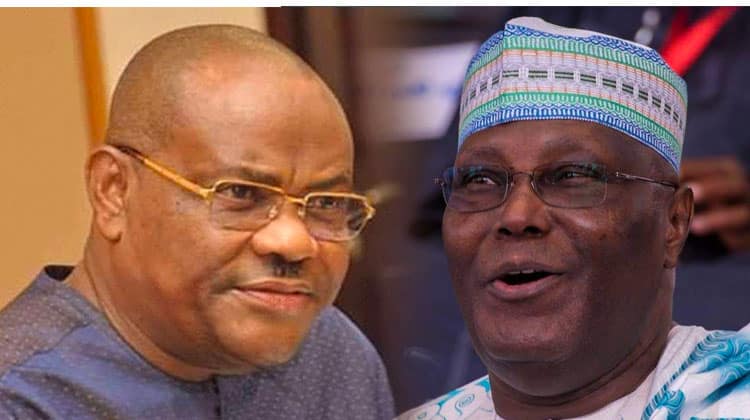 The Peoples Democratic Party (PDP) Presidential Campaign Council has reacted to the sealing of the campaign secretariat of its candidate, Atiku Abubakar, in Rivers State.
Naija News earlier reported that the River State Governor, Nyesom Wike sealed off the campaign office of Atiku Abubakar in GRA Port Harcourt on Friday, using a court order.
According to Wike's spokesman, Kelvin Ebiri, the sealing of the campaign office was in line with the directive of his principal that campaign offices should not be located in residential areas.
Reacting to the incident, the spokesman for the PCC in Rivers State, Leloonu Nwibubassa, in an interview with PUNCH said Wike's action was an attempt to suppress and oppress other political rivals.
Leloonu described the sealing of the campaign office as an act of lawlessness stressing that Wike has misused his power as governor of the state.
The State PDP PCC spokesman further said it was sad that Wike by his actions did not appreciate what he benefited from, in the present democracy, having been a two-time chairman of a local government in 1999, and also became a Chief of Staff.
He said: "It is very unfortunate and I think that all civil society groups, the international community, all lovers of democracy all over the world must understand that Governor Wike has misused his powers as governor.
"Not just to suppress and oppress, but to intimidate the people of Rivers State from expressing their free will to support any candidate of their choice or to be a member of any party of their choice, as expressly guaranteed in the grand norms of the Federal Republic of Nigeria.
"We have condemned it as an act of lawlessness by the governor.
"By closing down the political space in Rivers State; by intimidating and suppressing voices that are in opposition to his own bidding, Governor Wike is exalting himself to become the leader of all anti-democratic forces in Nigeria militating against the grand norms of the Federal Republic of Nigeria that guarantee freedom of association, freedom of lawful and peaceful assembly.
"Everything about that secretariat and campaign office, every requirement has been made.
"So the governor is left with no excuse that the action that he has taken is completely outside the law. It is vindictive. It is against the right of the people."