Embarrassment As Ugandan Paratroopers Crash Land On Spectators During 60th Independence Day Celebration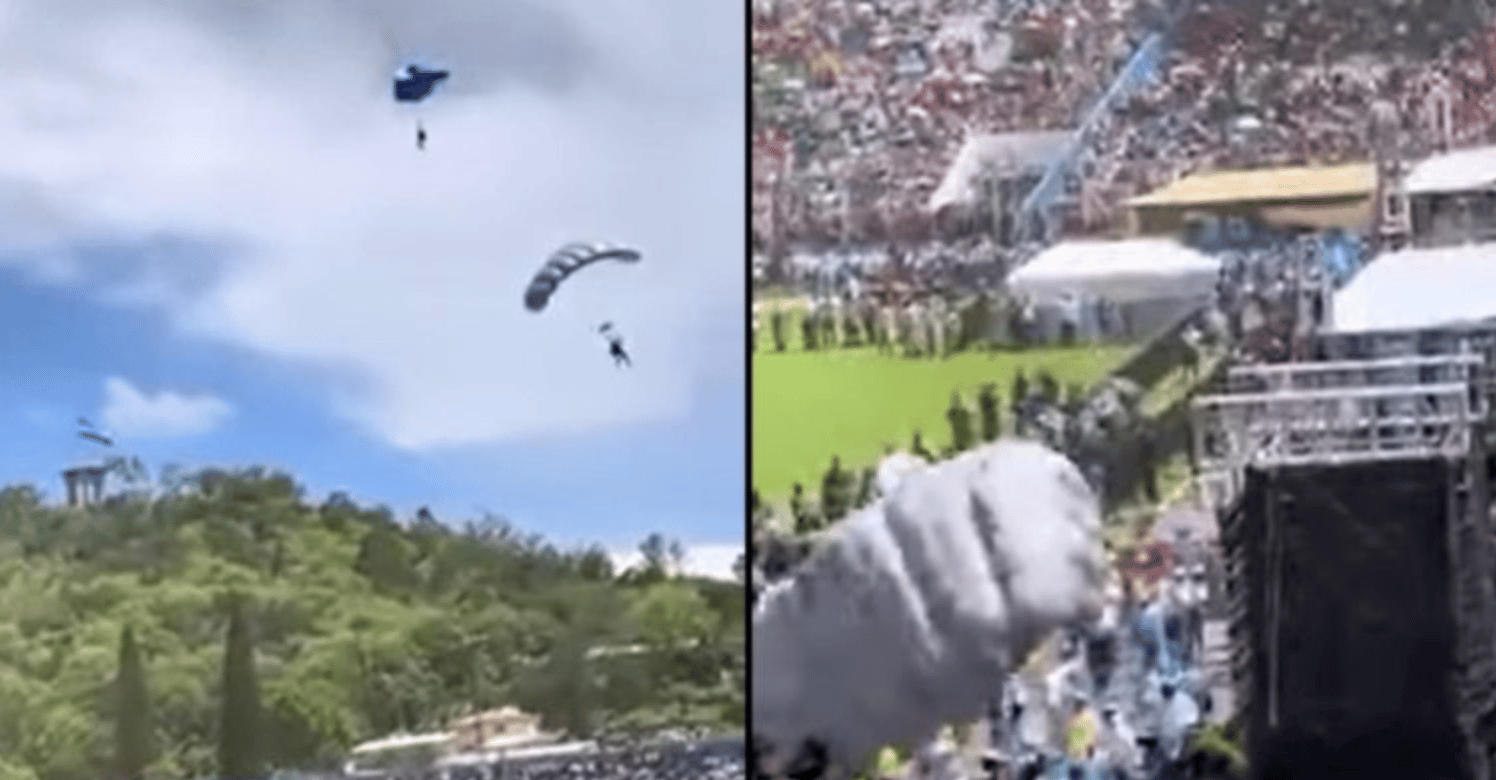 Some Nigerians have reacted to the viral video of Ugandan paratroopers who missed their targets and fell on spectators during the country's independence celebration.
The drills featured multirole fighter jets, paratroopers, and commandos as Uganda demonstrated its military might.
However, it escalated into a full-fledged embarrassment for President Museveni as the Military choppers dropped paratroopers at intervals, landing on the stadium pitch.
One serviceman was parachuting down and appeared to be perfectly placed to land on the pitch but suddenly folded and tugged the soldier, causing him to lose his grip on it.
A second soldier who was in mid-air also lost control of his parachute, and it flew directly onto the mobile toilets in the stadium.
This sparked reactions from many Nigerians on social media.
afriqdaily wrote: "This is pathetic and ironically all this just shows how much progress Africa has made since independence. Maybe just maybe we are better colonized since most of us are fleeing to our colonizers land for a better life"
joker_____ledger wrote: "The whole UGANDAN population ACCRA-ing cos they all didn't CEDIS coming"
ernestpelle wrote: "Africa Nawa ooo. Small small children for outside Africa day use this play
benrichieofficial I be think say na only Naija these things dey happen"
update317naija wrote: "This go make many mumu wey dey laugh when Nigeria army own Dey do rehearsals on the main event ground weeks ago before the independent day parade ,so as to make a good show on the main event day ,to avoid something of this nature"
ekt2nice wrote: "Africa: we will get there some day. nice try soldiers…. Rome was not built in a day… Next time will be better… Kudos"
astrondevices wrote: "We'll get there ,it's a gradual process …AFRICA practice makes perfect"