Secondus Speaks On Suit Seeking Dissolution Of Ayu-led PDP NWC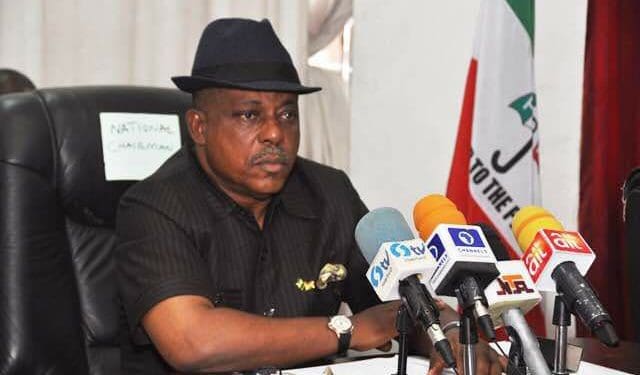 A former National Chairman of the Peoples Democratic Party (PDP), Uche Secondus, has distanced himself from a case seeking the dissolution of the party's National Working Committee (NWC).
Naija News reports that a former aide to the former PDP national chairman, Chuma Chinye, filed the case before the High Court sitting in Abuja.
In his application, Chinye argued that Secondus was illegally and forcefully removed from office as PDP national chairman among other things.
However, Secondus in a statement on Wednesday by his spokesman, Ike Abonyi, said he does not have anything to do with the case and was never privy to the case.
The former PDP chairman added that the case runs against the principles of exhausting internal party machinery in any case.
Abonyi quoted Secondus as saying, "He is distancing himself from it as it runs against his principles of the exhausting internal party machinery in any case before going to court."
Wike vs Ayu: PDP BoT To Meet Atiku
The Peoples Democratic Party (PDP) Board of Trustees (BoT) has resolved to meet with the Presidential Candidate of the party, Atiku Abubakar, over the crisis rocking the PDP.
Recall that Governor Nyesom Wike of Rivers State, Governor Samuel Ortom of Benue State, Governor Seyi Makinde of Oyo State, Chief Olabode George, and many others on Wednesday pulled out of the Presidential Campaign of former Vice President Atiku Abubakar, insisting that Ayu must resign before they can back the PDP Presidential candidate as the campaign kicks off on September 28.
Reacting to the decision of Wike's camp to pull out of his campaign, Atiku had in a statement said there was a need to follow the party's rules and regulations in removing the PDP chair.
Speaking to The PUNCH, the newly appointed Chairman of the BoT of the PDP, Chief Adolphus Wabara, has said the BoT will meet with Atiku to discuss issues relating to Ayu and his comments on the reported amendment of the party's constitution.
Asked about the plans to amend the PDP constitution, Wabara said the decision would be finalized by the presidential candidate of the PDP.