How I Survived Gunmen Attack In Anambra – Ifeanyi Ubah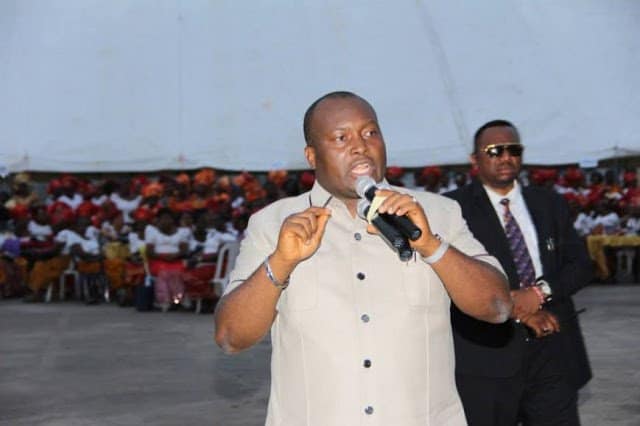 The lawmaker representing Anambra South Senatorial District in the National Assembly, Senator Ifeanyi Ubah, has reacted to the attack on his convoy.
Naija News had reported earlier that unknown gunmen on Sunday ambushed the lawmaker's convoy in Enugwu Ukwu community, Njikoka Local Government Area of the state.
Some aides and security agents attached to the businessman were reportedly killed with many injured during the deadly attack.
In a statement released on Sunday night, the spokesman for Senator Ubah, Kameh Ogbonna, said the senator managed to escape with his bulletproof car.
Ogbonna said the gunmen attacked the convoy from all sides, saying that about seven security operatives were shot by the gunmen.
The spokesman, however, revealed that the special aide to the lawmaker named Obum was killed in the attack.
He said: "If not for the bulletproof jeep the senator was riding in, he would have been dead by now.
"We were passing Enugwu Ukwu junction when they hit us from all sides and as I speak with you Obum, the special aide to the senator is dead.
"About seven security operatives were hit by the gunmen's bullet."
However, Nigerians have taken to social media to express their reactions to the attack on the lawmaker in his home state.
Below are some of the reactions.
The deadly attack on Senator Ifeanyi Ubah and the killing of his aides is unfortunate,tragic and condemnable.

— Senator Shehu Sani (@ShehuSani) September 11, 2022
BREAKING: Senator Ifeanyi Ubah's convoy attacked in Anambra state by unknown gunmen. About 6 people reportedly shot dead!

— Philip Obin (@PhilipObin) September 11, 2022
Just watching the video of the deadly attack on the convoy on Senator Ifeanyi Ubah's convoy in Anambra and seeing all his aides and security people killed is beyond traumatic. He eacaoed only because he was in a bulletproof car. What kind of a country is this?

— Comrade Deji Adeyanju (@adeyanjudeji) September 11, 2022
With what I just saw that happened at Enugwu ukwu, you'll agree with me that security agents especially the ones attached to Nigerian politicians are just sacrificial lambs. Now Ifeanyi Ubah never leave them? Those politicians will not just use you, they will feed on your bloods

— Happinesseric𓃵 (@pearlddiva) September 11, 2022
The carnage in Anambra State is totally unacceptable.
The state has lost its peace. Now, the Federal, State Government & the people must come together to stop the killings.
It was Ifeanyi Ubah who escaped today but many security men die, who is next?
This madness must stop. pic.twitter.com/ipb4gZs2sh

— President Eniola Daniel (@UnlimitedEniola) September 11, 2022
I would want to comment on the evil attack on Sen Ifeanyi Ubah by unknown gunmen from a different angle. Alaigbo should be careful not to be used to swing the coming election using insecurity as a reason. We must protect our land from known and unknown criminals.

RIP to the dead

— Henry Shield (@henryshield) September 12, 2022
Senator Ifeanyi Ubah's convoy was ambushed by unknown gunmen in Enugwu ukwu this evening. Many of his aides numbering about 7 or so were brutally murdered according to locals. The Senator escaped in his bulletproof car. May their souls rest in peace. The videos are gory.

— Aji Bussu Onye Mpiawa azụ 🇨🇮 (@AfamDeluxo) September 11, 2022
The attack on Senator Ifeanyi Ubah's convoy is condemnable.

If a Senator with lot of armed security aides could be attacked, how much more of an ordinary rich citizen.

Nigeria is not the best place to stay even if you have billions. I hope we can put that debate to rest now.

— Adewale Adetona (@iSlimfit) September 12, 2022
There's a huge possibility that the attack on Ifeanyi Ubah wasn't carried out by IPOB but trust people to heap the blame on IPOB. I don't blame people for doing so, IPOB brought this on themselves when they decided to pick up arms. Now every armed attack is attributed to IPOB

— IFEANYICHUKWU ☢️ (@Myka_veli) September 12, 2022