Troops Clash With Boko Haram Along Damaturu-Maiduguri Road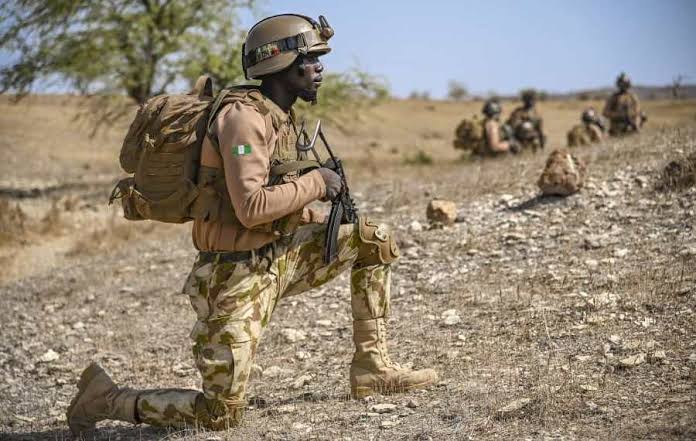 Troops of the Nigerian Army on Saturday morning engaged in a fierce gunfight with members of the dreaded Boko Haram terrorist sect along the Damaturu-Maiduguri road.
According to Zagazola Makama, a security expert, the troops stopped traffic along the Maiduguri-Damaturu highway as they engaged Boko Haram terrorists in a shootout.
Security sources revealed that the attackers reportedly targeted commuters near Ngamdu after storming the road from the axis of the Timbuktu Triangle.
The sources said that the troops successfully repelled the attack, pushing them off to the bush, adding that the road should be reopened later today for use.
Meanwhile, this is coming hours after Makama reported that Boko Haram fighters and a faction of the terrorist group, the Islamic State in West Africa Province (ISWAP), had clashed in Borno State, NorthEast Nigeria.
He revealed that the Boko Haram fighters repelled the attack of their rivals, killing 18 ISWAP members in the process.
According to Makama, ISWAP, on five gun trucks and Motorcycles, on June 30, attacked Boko Haram's acclaimed Caliphate in Gazuwa village, formerly known as Gabchari, Mantari, and Mallum Masari, located about 9 kilometers from Bama Local Government Area of Borno.
The caliphate, formerly known as Gabchari, Mantari, and Mallum Masari, is located about nine kilometers from the Bama Local Government Area of the State.
He said the attack ignited a fierce gunbattle between the terror groups, which lasted for about three hours.