Fayose Mocked Over PDP's Loss In Ekiti Governorship Election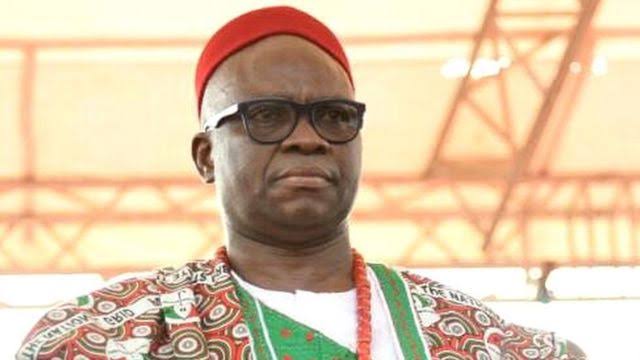 Former Governor of Ekiti State, Peter Ayodele Fayose has been mocked over the loss of the candidate of the Peoples Democratic Party (PDP), Bisi Kolawole, in the Ekiti Governorship election.
In the early hours of Sunday, the Independent National Electoral Commission (INEC) declared Abiodun Oyebanji the winner of the governorship election in Ekiti State.
Oyebanji, the governorship candidate of the All Progressives Congress in the election, who won 15 out of the 16 Local Government Areas of the state gathered 187,057 votes.
The governorship candidate of the Social Democratic Party, Segun Oni came second with 82,211, while the candidate of the Peoples Democratic Party, Bisi Kolawole gathered 67,457 votes.
A total of 16 candidates took part in the election. The total valid votes in the election were 351,865, void votes, 8,888 and total votes cast, 360,753.
Recall that Fayose had anointed Kolawole as the PDP candidate in the election and worked towards his emergence as the party's governorship candidate in the primary election that took place in April.
Oyebanji's emergence as the new governor-elect has, however, generated a barrage of reactions on social media as netizens mocked Fayose for failing to work for the victory of his anointed candidate.
See some of the reactions below.
Fayose buried the PDP in Ekiti State.
Oni and Fayose started their cat and dog fight in 2007 and Fayose couldn't also let go for the success of his party for the 2022 governorship election.
It seems Fayose collected money from the APC to give them a good ride.#EkitiDecides pic.twitter.com/0g3sBcX3LC

— President Eniola Daniel (@UnlimitedEniola) June 18, 2022
Segun Oni would have won us this election clean and clear. But Fayose who resides in Lagos and planning to work for Tinubu's presidency was allowed to have his day. Now see the disgrace.

— Hon. Otaigbe Imadegbelo (@Imudia_se2) June 18, 2022
Segun Oni under the platform of PDP could have posed a tough contest against the APC. It probably wouldn't have been this easy for our candidate. I'm glad Fayose messed up this one.

Sweet victory for my APC.

— KING KUKUTE (@Ade_Nurayn) June 18, 2022
When PDP is ready for serious business in Ekiti, they will send Fayose away from that party.

If not, that party in Ekiti, under Fayose, will never see the light of the day again.

Stay there and be shouting vote buying…#EkitiDecides2022

— #AsiwajuOladimeji (@AsiwajuOladimej) June 18, 2022
I supported Segun Oni ticket from the beginning cos I was told he was the most popular aspirant in PDP but Fayose probably promised someone else the ticket since 2018. You can reward people with Assembly, Rep tickets but rewarding someone with guber ticket is ridiculous.

— Premier (@SodiqTade) June 18, 2022
Fayose DISGRACED himself in this just concluded Ekiti Guber, Chai

— AA✰ (@advtomiwa) June 19, 2022
If Ayo Fayose, ex-Ekiti governor, were in good terms with Segun Oni, the votes going to Bisi Kolawole, PDP candidate, would have easily gone to Oni – and it will be easy to win. In fact, that's a win

Fayose, in my opinion, is killing PDP in Ekiti.#EkitiDecides2022

— dyepkazah (@dyepkazah) June 18, 2022
Fayose na sell out…he will sell ekiti to tinubu…i am glad seyi fought him for the structure of the party …useless man

— SON OF SARAKI(Mikano boy) (@cartermillz) June 19, 2022
So much I want to write about Fayose and his underhand dealings against the PDP in Ekiti, but I don't want to talk to a party that's dead to basic thinking. You'll remain in opposition in Ekiti forever until you are ready to confront those undermining and compromising you.

— Henry Shield (@henryshield) June 18, 2022
Shallow minded people like Fayose thinks they have earned the right to insist on whoever they want to represent the party. That is how they lost the likes of Peter Obi, Segun Oni etc.. Until PDP starts respecting popular opinion.. Shame and defeat will be the story

— Daishkawa Lagos (@daishkawa) June 19, 2022
---
---
© 2023 Naija News, a division of Polance Media Inc.