2023 Presidency: Peter Obi Returns To Nigeria From Egypt [Video]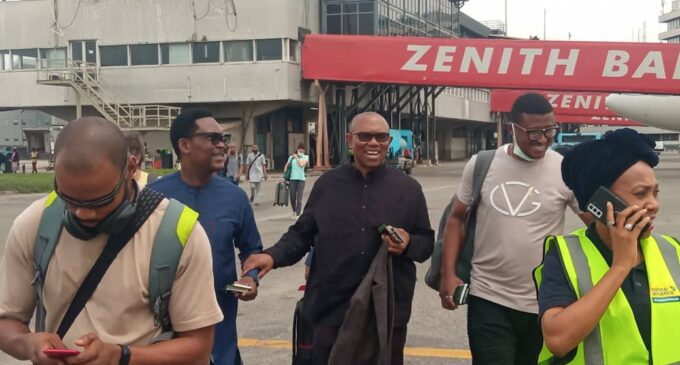 The Presidential candidate of the Labour Party (LP), Peter Obi, has arrived in Nigeria from Egypt after embarking on a three-day working visit.
Naija News reports that the former Governor of Anambra State had travelled to Egypt to understudy the country's power, education, planning and finance sectors.
Obi had earlier disclosed that his visit to Egypt is part of his detailed study of comparable countries to Nigeria.
Taking to his Twitter account on Tuesday, June 14, Obi wrote: "I just departed for Egypt on a 3-day visit as part of my detailed study of comparable countries to Nigeria.
"In Egypt, I am expected to understudy, among others, the Egyptian Power Sector, Education, Planning and Finance Sectors."
The announcement didn't go down well with some stakeholders in the Nigerian politics who felt rather than travel at this time, Obi should be consolidating with supporters and strategizing with his party on how to win the 2023 elections.
Some others also agreed with him and submitted that there is nothing wrong with his decision to travel.
However, the LP Presidential candidate returned to the country on Saturday evening via the Nnamdi Azikwe International Aiport in Abuja.
The former governor was received at the airport by a mammoth coed consisting of his party members, supporters and well-wishers.
A video of his return has been trending on the micro-blogging site, Twitter since yesterday evening. Watch the video below.