Full List: Manchester United Premier League Fixtures For 2022/2023 Season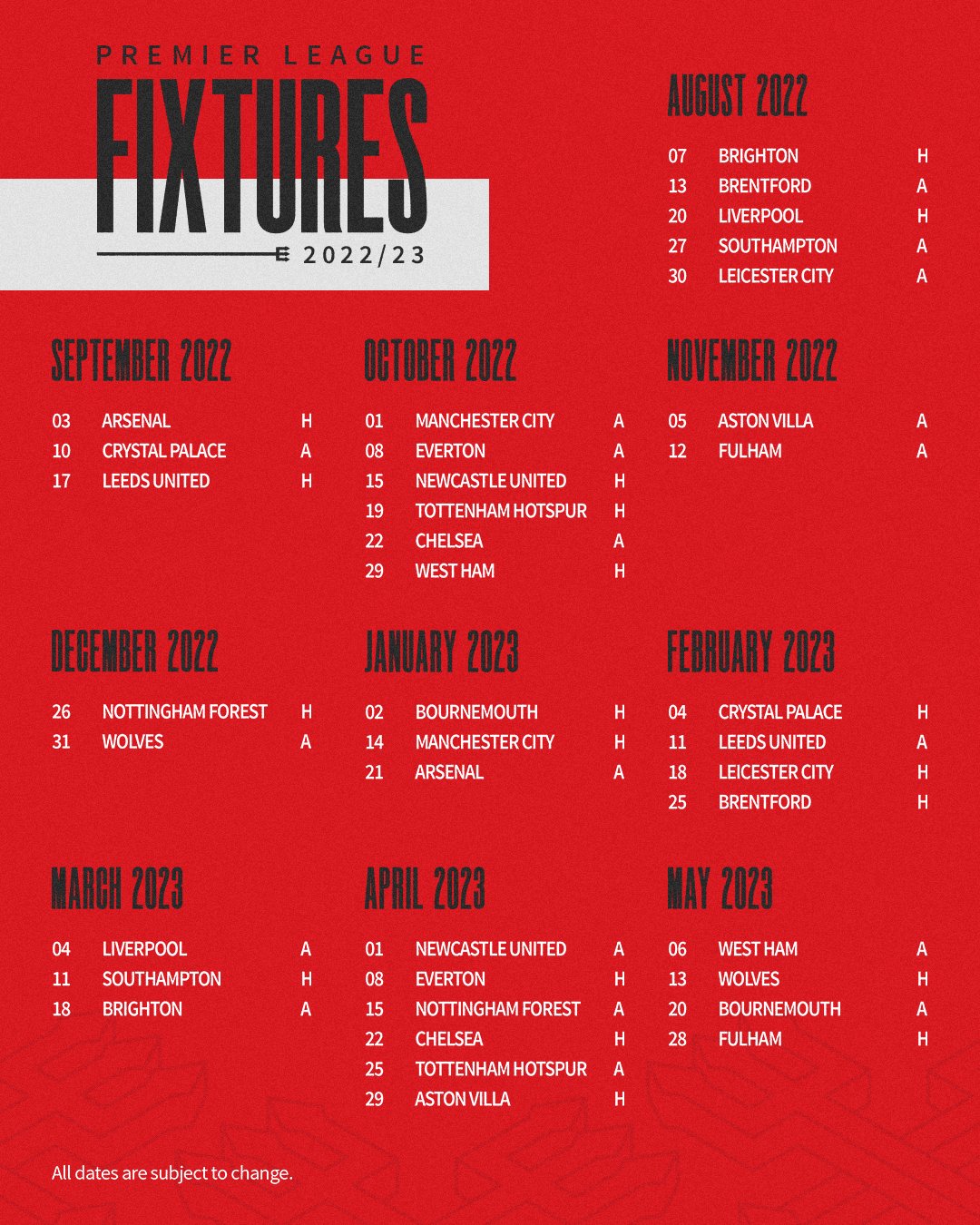 Manchester United will begin the 2022/23 Premier League campaign with a home game against Brighton & Hove Albion.
The Seagulls will visit Old Trafford on Sunday 7 August, Naija News reports.
The opening weekend of the campaign is earlier than normal due to the break in fixtures between 12/13 November and 26 December for the World Cup in Qatar.
The Premier League season will end on Sunday 28 May 2023, when the final 10 games are all played at the same time.
AUGUST
7 Brighton (H)
13 Brentford (A)
20 Liverpool (H)
27 Southampton (A)
30 Leicester City (A)
SEPTEMBER
3 Arsenal (H)
10 Crystal Palace (A)
17 Leeds United (H)
OCTOBER
1 Man City (A)
8 Everton (A)
15 Newcastle (H)
19 Tottenham (H)
22 Chelsea (A)
29 West Ham (H)
NOVEMBER
5 Aston Villa (A)
12 Fulham (A)
DECEMBER
26 Nottingham Forest (H)
31 Wolves (A)
JANUARY
2 Bournemouth(H)
14 Man City (H)
21 Arsenal (A)
FEBRUARY
4 Crystal Palace (H)
11 Leeds United (A)
18 Leicester City (H)
25 Brentford (H)
MARCH
4 Liverpool (A)
11 Southampton (H)
18 Brighton (A)
APRIL
1 Newcastle United (A)
8 Everton (H)
15 Nottingham Forest (A)
22 Chelsea (H)
25 Tottenham Hotspur (A)
29 Aston Villa (H)
MAY
6 West Ham (A)
13 Wolves (H)
20 Bournemouth (A)
28 Fulham (H)