2023 Presidency: Nigerians React As Atiku Picks Okowa As Running Mate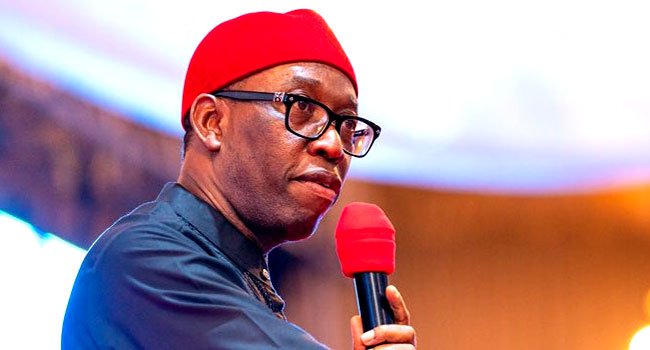 Barring any unforeseen change in the situation, Delta State Governor, Ifeanyi Okowa has emerged as the running mate of the Peoples Democratic Party presidential candidate, Atiku Abubakar for the 2023 election.
It is said that Okowa was picked ahead of the Rivers State Governor, Nyesom Wike.
As earlier reported by Naija News, the announcement of Okowa as the PDP's running mate would be made in the next few hours.
According to Arise TV, the PDP and Atiku have settled for Okowa.
The news has generated mixed reactions from Nigerians. While some welcome the development, others see it as a political miscalculation on the part of the PDP.
Below are some of the reactions from Twitter following the development.
Delta State (under Okowa) gave Atiku the highest number of votes in the 2019 elections with 594,000+ votes, (even more than Adamawa) and they have the second highest number of new PVC registrations (behind Osun) since INEC resumed the Continuous Voter Registration.

Atiku😀 pic.twitter.com/vWsw6EQ77e

— Man of Letters. (@Letter_to_Jack) June 16, 2022
Atiku Abubakar has picked Delta state governor Ifeanyi Okowa as his running mate for the 2023 general elections, Bola Tinubu and Peter Obi is next, the battle field is getting set

— OMOTAYO Of Lagos 💥 (@Tee_Classiquem1) June 16, 2022
Atiku has humbled Wike again. Okowa is his VP candidate.

— FestusGreen #PeterObi (@FestusGreen) June 16, 2022
Okowa is a sane and strategic VP candidate for the PDP. Appeals to the SE base whilst maintaining strong SS grip.
A more stable and urbane personality, unlike Wike.

— Wali. (@NWali_X) June 16, 2022
Wike is a strong grass rooted man but I don't think there's any Presidential Candidate that'll consider him as Vice Presidential Candidate, he looks like someone who'll trouble is principal a lot. Okowa is cool headed.

— OTUNBA 🇨🇦 (@ManLikeIcey) June 16, 2022
PDP made a strategic miscalculation. Wike, not Okowa would have been better, given the current season.

— Adamu Garba II (@adamugarba) June 16, 2022
If the news about Okowa is true then I can say Atiku is set to loose for the 6th time. You don't take boys scouts to war, you take a General like Wike.

Congratulations Asiwaju Bola Ahmed Tinubu… Incoming!

— JJB (@Chuks_jj) June 16, 2022
If the news about Okowa is true then I can say Atiku is set to loose for the 6th time. You don't take boys scouts to war, you take a General like Wike.

Congratulations Asiwaju Bola Ahmed Tinubu… Incoming!

— JJB (@Chuks_jj) June 16, 2022
Many powerful people will be scared at the thought of Wike as VP – a heartbeat away from the Presidency.

I am not surprised Atiku chose Okowa.

— Onye Nkuzi (@cchukudebelu) June 16, 2022
Okowa is a good choice and will surely deliver as a VP. The major issue here is how we are going to face fierce APC. I see this as a political risk and I hope it works at the end of the day. If Tinubu is ready to risk Muslim/Muslim ticket then PDP can take any risk even in Wike.

— Premier (@SodiqTade) June 16, 2022
Atiku picked Okowa and y'all are talking. Just wait for Peter Obi to announce his VP, the blind will see and the lame will walk. He's nobody's mate I repeat!

#OBIdients #PeterObiForPresident2023 pic.twitter.com/ZWY9VyAvoW

— Labour Party (@steve_destiny) June 16, 2022
Atiku reportedly picks Okowa as his Running mate, they run Wike street again 😂 pic.twitter.com/Ai0G86aAqq

— Imran Muhammad (@Imranmuhdz) June 16, 2022
Atiku has chosen Ifeanyi Okowa, Governor of Delta to be his running mate. I was thinking Wike would be his Vice, a part of me knew Wike may not accept a position to run as a deputy to anybody.

— Dami' Adenuga | JUNGLE CLUB (@DAMIADENUGA) June 16, 2022
Okowa beats Wike to Atiku's VP.

Atiku won't want a VP that is close to being powerful like him.

At least, he should use his experience with OBJ as example.

— POOJA!!! (@PoojaMedia) June 16, 2022
With Peter Obi and now Ifeanyi Okowa on the ballot, SE and SS is closed to business for APC. When they bring their Muslim-Muslim ticket, NC and even SW will be shared spoils.

All that remains is to wish them all the best in NW and NE against a Hausa-Fulani candidate.

— Mitchell Obama (@Ambrosia_Ijebu) June 16, 2022
It'll be hilarious if Atiku has sincerely picked Okowa and still invites Wike for screening today

— Jake (@Hitee_) June 16, 2022
#pdpdecides
Atiku writes NWC to choose. Panel chooses Wike; Atiku backtracks and chooses Okowa. But of course, the cabals in the PDP did their job

— Deborah Tolu-Kolawole (@DeborahToluwase) June 16, 2022