N96b Fraud: Wike Reacts As Amaechi Loses At Supreme Court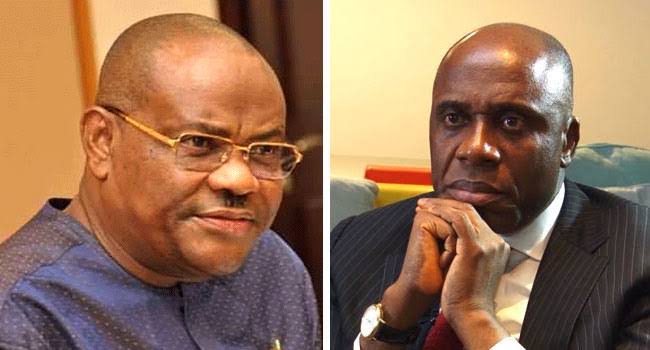 The Governor of Rivers State and Presidential aspirant, Nyesom Wike, has reacted to the Supreme Court judgement which ordered the former Minister of Transportation, Rotimi Amaechi, to respond to a probe instituted against him over an allegation of N96 billion fraud.
Naija News reports that the Rivers State Government had set up a seven-man panel to probe Amaechi's involvement in an alleged N96 billion fraud during his eight-year tenure as Governor.
The Rivers government alleged Amaechi fraudulently sold some assets belonging to the State during his tenure.
Some of the assets are Omoku Gas Turbine, Afam Gas Turbine, Trans Amadi Gas Turbine, Eleme Gas Turbine, Olympia Hotel and the award of contract for the execution of the MonoRail Project.
But the former minister instituted a suit at the Supreme Court to stop the probe instituted against him by the Rivers State government over the fraud allegation.
In a ruling on Friday, the Supreme Court dismissed the suit brought before it by Amaechi challenging the setting up of a seven-man probe panel against him for lack of merit.
The apex court also awarded N1million costs against the former minister who recently resigned to pursue his 2023 presidential ambition.
Reacting to the development in a chat with reporters on Friday, Wike commended the judgement and stated that his government had been vindicated.
The governor stated that the leaders of the state would decide what next step to take against Amaechi and how to recover the money for the state.
"If you see that report, as a Rivers man, you'll cry."
"It's not for only me. Yes, I'm a Governor, but I can't do it alone. If the leaders of the state say, yes we must prosecute them, I have no choice; but if the leaders say otherwise, I have no choice," Wike said.
The governor added that one of the allegations against Amaechi was the alleged diversion of $50 million from Rivers State Government through Access Bank to Sahara Energy.
Wike said there was no agreement to show that the Rivers State Government borrowed $50 million from Sahara Energy.
The governor added that Amaechi claimed Sahara Energy bought the state's gas turbines but there is no evidence to show for such a project.
"Where is the agreement to show we borrowed money from them? Nothing. Why are we paying them $50 million? Did we borrow money from them? Where is the agreement?" he asked.