'The Age Gap Is Too Much': Fans React After Loved Up Photos Of Eucharia Anunobi And Alleged Young Lover Surfaces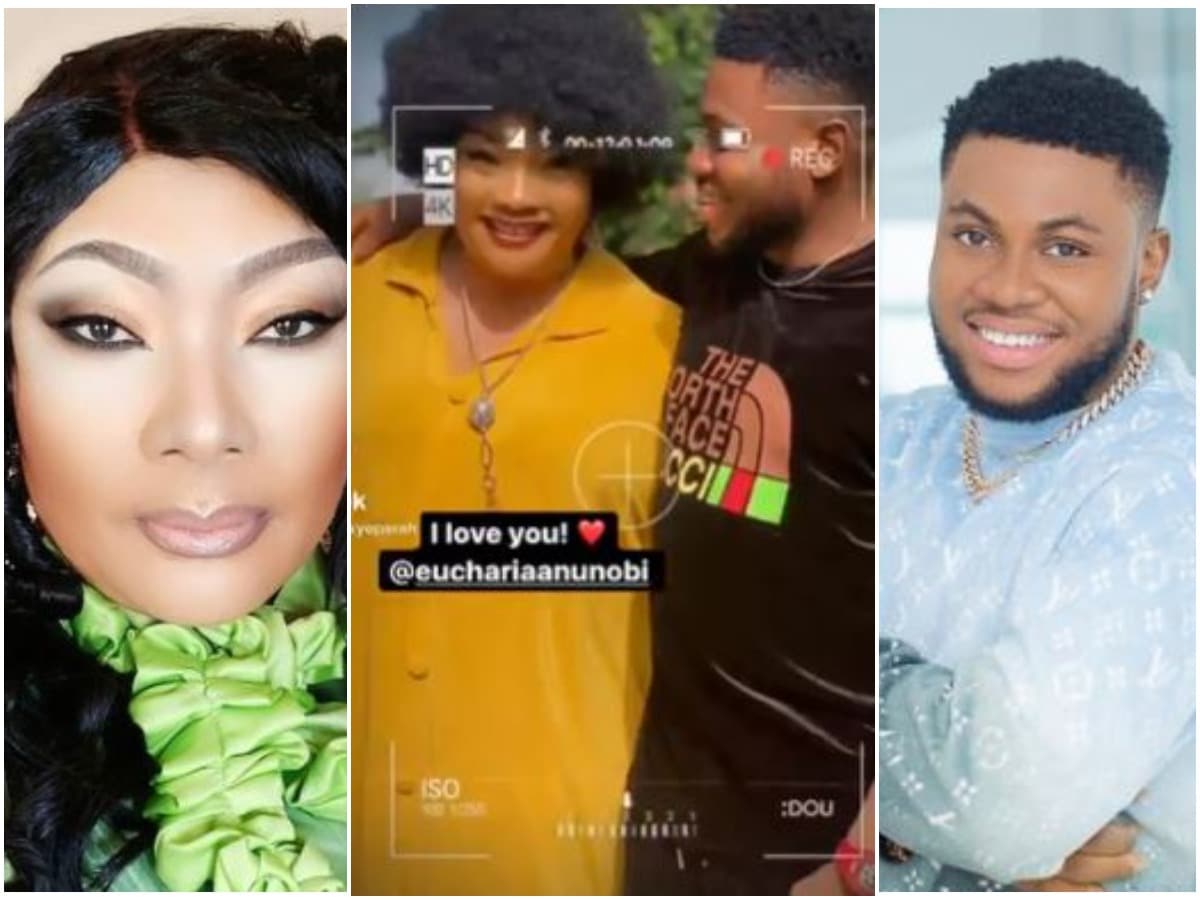 Fans on social media have expressed their concerns for Nollywood actress cum pastor, Eucharia Anunobi  after loved up photos with alleged younger lover, Lucky Oparah surfaced online.
Recall that the veteran actress denied the reports alleging that she was in a rumoured relationship with her younger colleague, Lucky Oparah after it was alleged she sent him poetic love messages via text and Whatsapp, expressing her deep feelings.
"HAPPY BIRTHDAY my love. I hope you have a wonderful birthday today. You have made my life interesting and special. Thank you for being in my life, I love you always my love. Your birthday card is below and your gift is in your bank. Love You Lucky", she reportedly wrote to her lover boy on his birthday.
Denying the reports in a recent interview, she said; "Sorry! This is the height of witchcraft! How demonic and absolutely disgusting. It is well. It's really well,"
Meanwhile, Lucky Oparah via Instagram story shared a lovey-dovey video of himself and Eucharia Anunobi which has gotten alot of tongue wagging.
The video captured the Nollywood stars all loved-up and a love song could be heard playing in the background.
Lucky Oparah also expressed love to Eucharia Anunobi, he wrote: "I love you".
Some of the reactions to the photo below;
One Nkiruka Helen wrote; "The age gap is too much, Eucharia is old enough to be your mum bro, but if you say you love her, goodluck."
One Celine Ebere wrote; "Pls follow your heart but think twice. It is not easy and remember you have past the age of heartbreak . Is better to be single than to live with a boy at end you regret it and have heartbreak ,it will be painful so my beautiful lady think and rethink . I wish you luck enjoy your new love.."
One Uba Chima Nnaoma wrote; "Even in her movies she likes young men. Now it's in reality. It will work for her Sha…she is a good woman."
One Stanley wrote; "56 year old woman, hope this boy's parents are aware and approves that they don't want grand children."
One Roseline Boniface wrote; "Congratulations happiness and love is the key"