Identities Of Army Personnel Killed By Terrorists In Taraba Revealed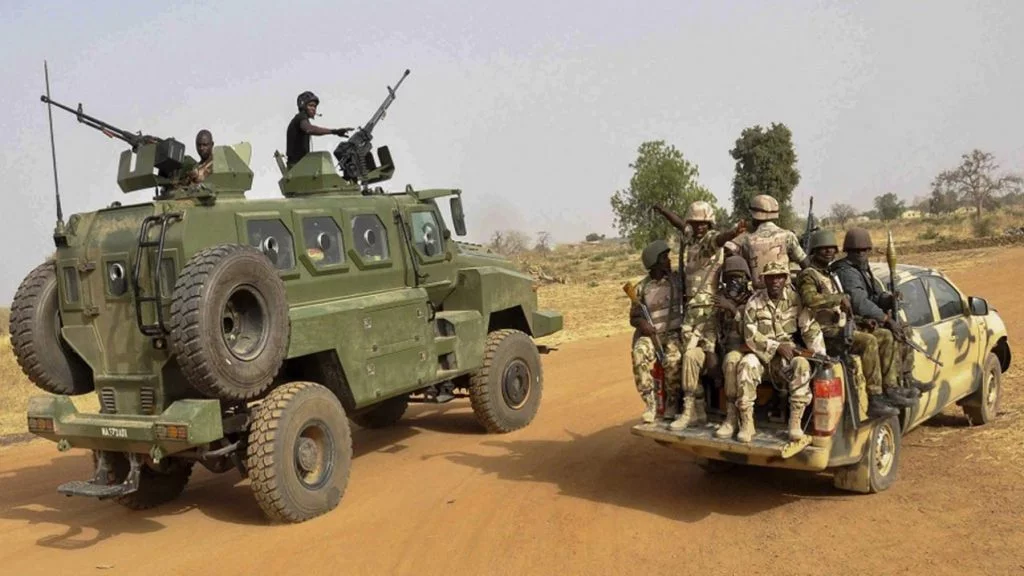 Gunmen suspected to be terrorists have killed at least six army personnel attached to the 93 Battalion, Takum, Taraba State in an ambush.
According to Saharareporters, the men of the Nigerian Army were killed in Tati village around 6:30am on Tuesday.
It was gathered that the gunmen ambushed the troops, killing six soldiers, while a lieutenant colonel identified as ES Okore (N/11717) was "missing in action" amid fears that he had been abducted.
The military officers killed include, Dauda Tata (7NA/44/4046), Yusuf Salihu (95NA/40/5031), Ndubuise Okonkwo (96NA/42/6911), Abdullahi Ibrahim (13NA/70/7901), Emmanuel Jerry (14NA/72/14051) and Sani Isa (14NA/72/15462).
The news platform not that a military signal revealed that the gunmen also ambushed and attacked troops reinforcement deployed from Mararaba in Nasarawa State, but that the troops carried out anti-ambush drills to fight their way out.
The signal read, "ATTK . AT ABOUT 100620A MAY 22. TPS OF 93 BN RESPONDED TO AN ATTK AT TATI VILL IN TAKUM LGA TARABA STATE BY. ON ARR, TPS HAD MTG ENGAGEMENT WITH THE BANDITS WHO OUT NUMBER OWN TPS. CAS. EN CAS. UNCFM.OWN CAS. 6 X SLDRS KIA. 97NA/44/4046 SSGT DAUDA TATA, 95NA/40/5031 SGT YUSUF SALIHU, 96NA/42/6911 SGT NDUBUISE OKONKWO, 13NA/70/7901 LCPL ABDULLAHI IBRAHIM, 14NA/72/14051 LCPL EMMANUEL JERRY AND 14NA/72/15462 LCPL SANI ISAH AND 1X MIA. LT COL ES OKORE (N/11717).
"TPS AT DONGA WHILE ON BLK FORCE AT ANANUM VILL ON DONGA LGA NEUTRALIZED 2 X BANDITS WHILE OTHERS FLED IN DISARRAY WITH GSW. ITEMS REC ONE AK47 RIFLE, TWO AK-47 MAG, 19 RNDS OF 7.62MM (SP) , ONE PISTOL, 7 RNDS OF 9MM AMMO, ONE LOCAL MADE GUN, THREE MC, VARIOUS CHARMS AND THE SUM OF FIFTEEN THOUSAND ONE HUNDRED AND TWENTY (#15,120) ONLY.
"FURTHERMORE, TPS FROM MARARABA COMING FOR REINFORCEMENT WERE AMBUSHED BUT CARRIED OUT ANTI AMBUSH DRILLS AND FOUGHT IT OUT. SEARCH AND RESCUE OPS ONGOING."