Oshiomhole Officially Joins 2023 Presidential Race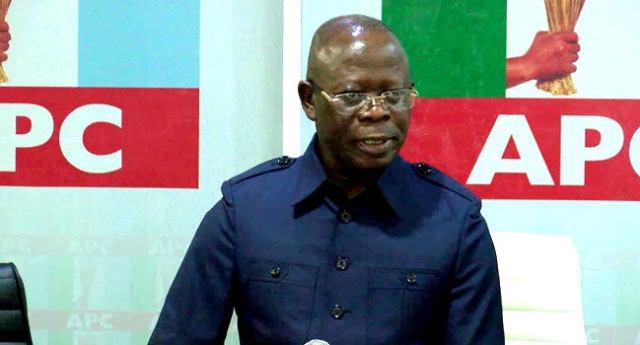 Former National Chairman of the All Progressives Congress (APC), Adams Oshiomhole has on Wednesday, officially joined the 2023 presidential race.
Oshiomhole, also a former Governor of Edo State made his official declaration at a press conference held in Abuja, the Federal Capital Territory.
This is after he had earlier indicated an interest in the Senatorial seat of his constituency before changing his mind and opting to join the list of aspirants interested in Nigeria's number one political job.
He promised to get the textile and automobile industry booming again which will lead to more job opportunities for the youths if elected the next President of Nigeria in 2023.
Oshiomhole also promised a progressive tax system which will see the rich pay more tax and the fund can be used to provide social amenities for the poor.
The presidential aspirant said not only petrol should be subsidized but education and agriculture should also enjoy subsidies.
He said, "It is in the interest of the rich to pay that tax so they can enjoy their wealth."
He added that "If we can subsidise petroleum products to the tune of trillions then we can subsidise education, agriculture etc."
While arguing that despite the best efforts by the current administration led by President Muhammadu Buhari, poverty is still prevalent in the country, Oshiomhole promised to tackle the problem of poverty which he identified as the root cause of insecurity.
He further promised to engage and resolve the issues of broken academic calendars caused by frequent ASUU strikes in the country.
"I want Nigeria to be described as the smartest country on the continent under my presidency."
"I want to declare that I will do everything possible to engage not just ASUU, but all stakeholders to ensure the academic calendar is maintained," he added.
Oshiomhole is expected to pick up the nomination and expression of interest forms of the ruling APC in a few days' time.