#EndSARS: Judicial Panel Orders Arrest Of Police Commissioner, Inspector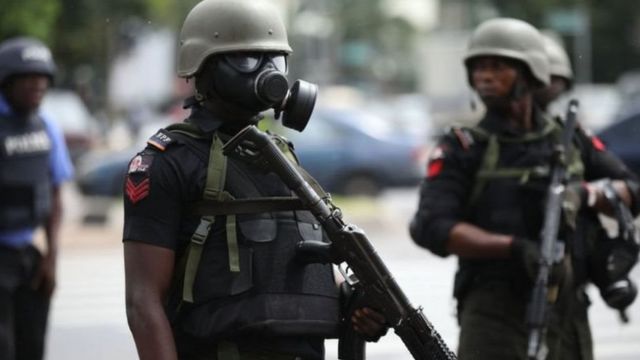 An order of arrest has been obtained against the Commissioner of Police heading legal services at the Force Headquarters, Ogbeh Ochogwu
The personnel was said to have shunned an invitation by the Abuja judicial panel over a case involving the alleged wrongful arrest and detention of one John Emeka Alozie, Naija News reports.
Alozie according to reports had gone missing from police custody since June 25, 2017.
Naija News understands that the panel established to probe brutality and human rights abuses linked to the disbanded special anti-robbery squad (SARS) and other units of the police force had since summoned officers in charge of the separate cases.
The panel, chaired by Suleiman Galadima, a retired Justice of the Supreme Court, ordered the arrest of the two personnel.
The other officer named by the panel was revealed as Inspector Shunku Terhermber.
The personnel is said to be attached to the Bwari Police Division in the Federal Capital Territory (FCT), Abuja.
Terhermber had been earlier summoned through the head of the Divisional Police Officer (DPO), Makinde Ola.
He was mentioned as a respondent in the unlawful arrest, detention and seizure of properties of one Michael Uzoagba.
Uzoagba, the complainant, claimed that Terhember, along with other officers, invaded his shop sometime in 2020 during the protest against police brutality.
He said the invading police officers questioned him about his son's whereabouts.
According to him, the officers had informed them that he did not know the whereabouts of his son, took away various electrical appliances from his shop, loaded them into a waiting police van, and drove away.
At Monday's hearing, Police lawyer, Fidelis Ogwobe, told the panel that he visited Bwari Area Council, to inform Terhermber of the panel's summons against him, but failed to show up.
He, however, said on the case, that the panel may decide to proceed in the absence of Terhermber by the Administration of Criminal Justice Act (ACJA) because the officer had been allowed to defend himself and had failed to do so.
After deliberations, an arrest warrant was issued against the officer.
Meanwhile, Ochogwu who a youth was said to have gone missing at his command, had failed to honour several orders of the panel directing him to appear with the case file of the victim.
The panel had adjourned its sitting at the instance of Ochogwu five times, Naija News learnt.
Ordering the police officer's arrest on Monday, the panel chairman, Galadima, said his attitude was unbecoming of a lawyer and officer of the police force.
In addition to ordering the police officer's arrest, the panel chairman also ordered that the National Human Rights Commission (NHRC) report his conduct to the Legal Practitioners Disciplinary Committee (LPDC), the body statutorily saddled with the responsibility of disciplining lawyers found wanting in ethical and professional codes.
Galadima noted that Ochogwu "flagrantly and repeatedly disobeyed the order of the panel" has refused to turn in the said case file to enable the panel to unravel the truth about the whereabouts of Alozie.