Hours After Nnamdi Kanu's Secret Trial, Ohanaeze Appeals To Buhari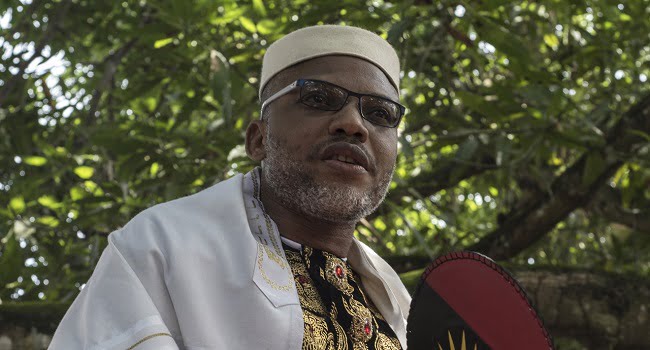 Hours after the secret trial of the leader of the Indigenous People Of Biafra (IPOB), Nnamdi Kanu, the Youth Wing of Ohanaeze Ndigbo Worldwide has appealed to President Muhammadu Buhari to apply a nationalistic and patriotic approach to end the judicial battle.
The youth group urged the president to play a fatherly role in dealing with the issue at hand as it concerns the IPOB leader.
The group made the appeal in a statement made available on Saturday by its National President, Comrd. Igboayaka O. Igboayaka in Owerri, Imo State capital.
The release reads "Nigeria today is evidently characterized by socio-cultural and political injury, ethnic jingoism, and regional marginalization. And the signal of insecurity in Northern Nigeria and agitation in the Southern part of Nigeria should be seen as a call for meditation and reflection by every concerned Nigerian.
"The government of president Muhammadu Buhari can make a choice that will trigger jubilation in the country by acting fatherly and patriotic in the case of Nnamdi Kanu, by seeing the release of Nnamdi Kanu as his fatherly responsibility which will reawaken the consciousness of new generation of Igbo extraction that Nigeria can survive in a round table of dialogue instead in the theater of war."
OYC stated further that releasing Kanu will lead to a rebirth of the country.
"The quest for fairness and justice of the Igbo new generation in Nigeria political project should be given a holistic approach which will metamorphose into reintegration of the Separatist groups, by applying fairness justice in all that led to the call of secession in Nigeria.
Our appeal to President Mohammadu Buhari is to earnestly consider the political solution to the case of Nnamdi Kanu as presented by Prof. Amb. George Obiozor and other eminent Nigerians as a catalyst that will stimulate national peace and Unity."