Nnamdi Kanu's US Lawyer Drags Buhari, Malami, Justice Nyako To Court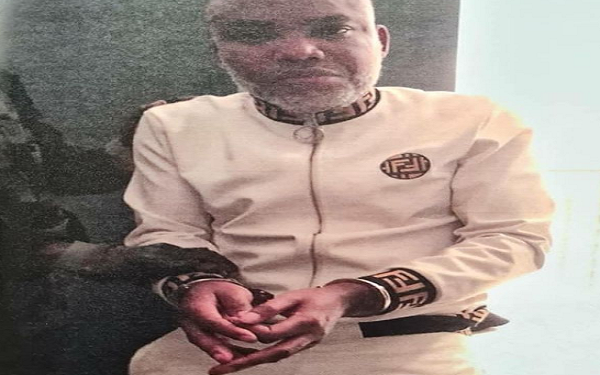 Bruce Fein, the United States lawyer of pro-Biafra agitator, Nnamdi Kanu, has filed a criminal complaint against, Abubakar Malami, Justice Binta Nyako of an Abuja Federal High Court and President Muhammadu Buhari at International Court of Justice.
He charge Malami and Nyako of conspiring with Buhari and Kenyan President, Uhuru Kenyatta, to commit crimes against humanity.
In a post on Twitter, he wrote: "Today, I filed a criminal complaint with the International Court of Justice against Nigerian Attorney General Malami and Federal High Court Justice Nyako charging them with conspiring with Nigerian President Buhari and Kenyan President Kenyatta to commit crimes against humanity."
Kanu will be appearing before the Federal High Court, Abuja, on Friday for charges bordering on terrorism.
After spending two years in detention, Kanu disappeared in April 2017 while on bail. However, he mysteriously resurfaced in Israel more than a year later.
Last June, Kanu was arrested in Kenya and repatriated to Nigeria.
Meanwhile, Mbazulike Amaechi, a first republic Minister of Aviation, has said that Nnamdi Kanu will be released soon. Amaechi stated this while addressing journalists in Onitsha, Anambra State, ahead of Kanu's trial on Friday.
Sometime last year, the former minister visited President Muhammadu Buhari alongside a delegation over the release of Kanu.
However, he said that the activist was not released despites the president's promise.Read more