2023: Malami, Ned Nwoko Have Plans To Stop My Presidential Ambition – Sowore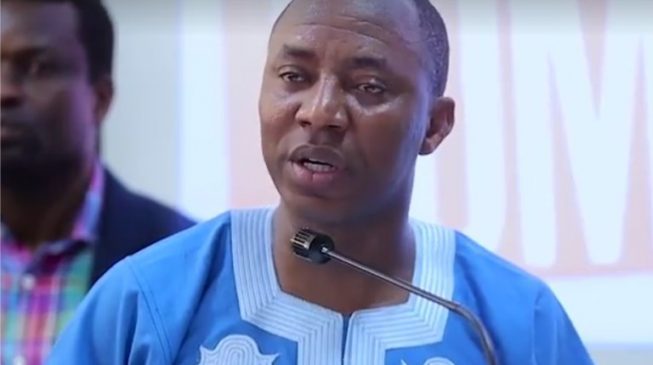 The presidential candidate of African Action Congress in the 2019 election, Omoyele Sowore, on Friday accused the Attorney-General of the Federation, Abubakar Malami and former lawmaker, Ned Nwoko of planning to hinder him from declaring his presidential ambition.
Sowore stated this after he was released by the Nigerian Police on Thursday night.
Naija News had earlier reported that the publisher of Sahara Reporters was arrested by the police and taken to the former Special Anti Robbery Squad detention facility, which is popularly called "Abattoir."
Sowore was arrested following a petition written by a former member, House of Representatives, Nwoko.
The activist while confirming his arrest on Twitter said the Minister of Justice and Nwoko are scared and have the intention to take him before a judge.
He further stated that his plan to declare his ambition next week would not be stopped as he is well prepared.
Sowore in the post on his Twitter account wrote, "@mBuhari cabal members led by Malami are so scared now, they want to take me before a judge & send me to prison so that I won't be able to declare for presidency early next week! We are more than ready! #RevolutionNow #WeCantContinueLikeThis."
"Earlier yesterday morning a group of well-armed govt sponsored miscreants attacked our contingent, assaulted and stole their phones in the Gudu area of Abuja on our way to the Court of Appeal.
"The case was immediately reported to the police but they did nothing about it. It turns out it was part of a bigger plot as later in the afternoon a group of well-armed policemen accosted me outside the Court of Appeals gate in Abuja arrested me, accusing me of "defamation" over reports published by SaharaReporters, a standalone legal entity.
"After hours of detention, they let me leave. I have just been informed now that they've procured a judge to remand me in prison custody because they heard I am planning to declare my Presidential ambition early next week. I will be bearding out shortly to meet them, I am fully prepared and very convinced that they are irreversibly heading towards self-destruction. #RevolutionNow #WeCantContinueLikeThis."