FG Obtains Clearance To Deploy US Tucano Jets Against Bandits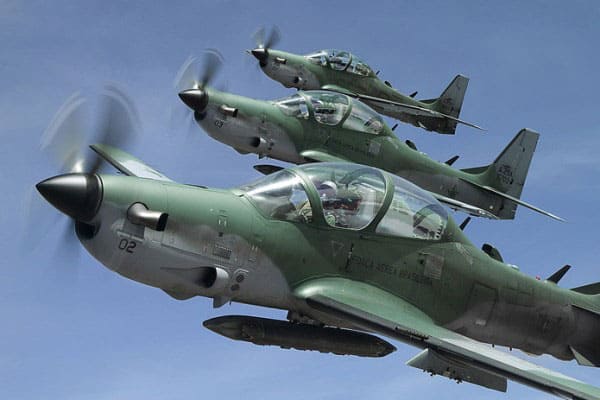 The United States has reportedly granted clearance to the Nigerian government to deploy the Super Tucano jets purchased last year against bandit terrorists causing unrest in the country.
Naija News reports that the North-West and North-Central region of the country has witnessed disturbing number of attacks ranging from Boko Haram sect to bandit terrorists.
It was in this regard that the federal government shopped for fighter jets which it finally took delivery of after many months of delay.
The US at the time of delivery of the jet had not given a blank cheque to Nigeria on the use of the fighter jets. The US floated a monthly schedule to monitor the deployment of the jets, the battlegrounds and the purpose of the deployment.
It is understood that some US officers have been visiting Nigeria to evaluate the use of the jets in line with the terms of sale.
Speaking on the new development earlier today on Good Morning Nigeria, a breakfast show on the Nigerian Television Authority (NTA), the Attorney-General of the Federation and Minister of Justice, Abubakar Malami, said clearance has been given on the use of the jets.
He said the Federal Government had secured the clearance after assuring America that it would be used according to international best practices.
The AGF further explained that the gazette of the usage of the Super Tucano Jets was in progress.
Malami said, "We are also confronted with banditry in the North-West and that is why we acquired Military hardware against terrorists and bandits. They are causing major threats to the lives of Nigerians. The military hardware will be used against them.
"The gazetting of the Super Tucano is in progress. The clearance to use the Super Tucano has also been obtained."