Biafra: Nnamdi Kanu Fighting For All Nigerian Youths, His Case Deserves Political Solution – Ohanaeze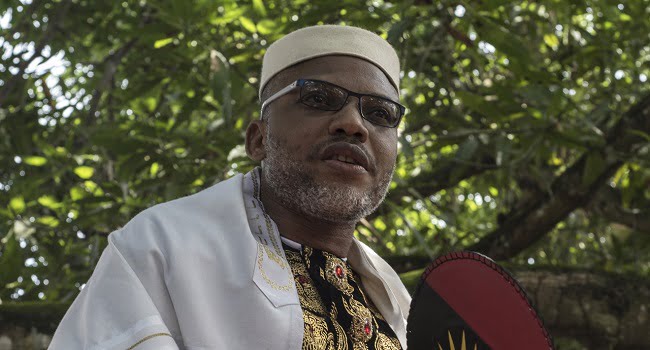 The apex Igbo socio-cultural organization, Ohanaeze Ndigbo has advanced reasons why the federal government of Nigeria must adopt a political solution in the case involving Biafra agitator, Nnamdi Kanu.
The group in a reaction to the submission by the Minister of Justice and Attorney-General of the Federation, Abubakar Malami in which he ruled out pardon at this stage for the embattled leader of the Indigenous People of Biafra (IPOB), Nnamdi Kanu said there is the need for the government to reconsider its stand.
Ohanaeze in the statement through its spokesman, Chief Alex Chidozie Ogbonnia said the agitation by Kanu has gone beyond just a regional demand by the Igbos for Biafra but a call by all the youths of Nigeria for the government to address cases of marginalization and injustice – both perceived and experienced.
Ogbonnia, therefore, added that adopting a political solution to the Kanu/Biafra issue will go a long way in resolving many challenges facing Nigeria and bring back peace to troubled regions.
"When we talk of a political solution, it is all-encompassing. It includes addressing the issues that threw up people like Nnamdi Kanu, marginalization, injustice. Kanu has raised the consciousness of the Igbo youths to these problems. And some of them are now seeing a state of Eldorado.
"IPOB philosophy has become opium in Igbo youths. There are certain political actions that would be taken and Nnamdi Kanu will even see that things are changing and it will be easy to convince him to tow another line.
"Malami should know that what is happening is not affecting only Igbo but the entire country and the earlier a solution is found, the better for Nigeria", the Ohanaeze spokesman was quoted by Vanguard to have said on Thursday.
Meanwhile, Justice Binta Nyako of the Federal High Court in Abuja has ordered the Department of State Services (DSS) to allow the detained IPOB leader to practice his faith, change his clothes, and be given the maximum possible comfort in the detention facility.
She gave the directive on Thursday during the emergency hearing of the federal government's case against Kanu who is standing trial for treasonable felony and acts of terrorism.
Justice Nyako added that Kanu's trial earlier slated for January 19 and 20, 2022 will now hold on January 18, 2022.