Health, Education Tops As Obaseki Presents N214.2bn 2022 Budget To Edo Assembly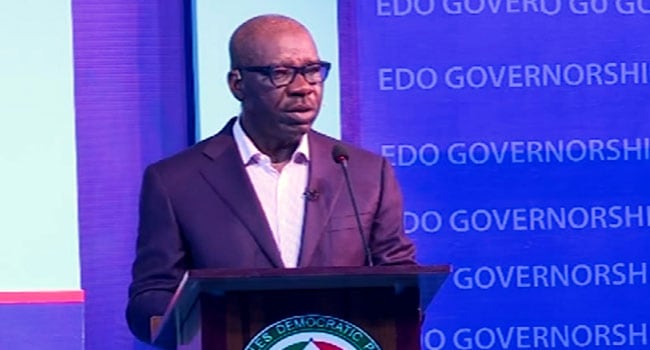 Governor Godwin Obaseki on Wednesday presented a N214.2 billion budget to the Edo State House of Assembly, for the 2022 fiscal year.
Naija News reports that the 2022 budget represented a 32.96 percent increase from the N161.1 budgeted for the year 2021.
Obaseki, who presented the budget to the Assembly sitting at the newly renovated Anthony Enahoro Assembly Complex in Benin City, said the budget comprises N118.3 billion for capital and N95.9 billion for recurrent expenditure.
According to the governor, the document, christened, 'Budget of Renewal, Hope and Growth', seeks to enhance reforms in government process, stimulate economic prosperity and improve ease of doing business to continuously attract private capital to engender sustainable development.
Obaseki said the total projected revenue for 2022 is N186 billion, consisting N65 billion statutory allocation; Value Added Tax (VAT) of N23 billion; IGR, N50.3billion and N11.6billion from grants, among others, adding that "the revenue estimates for the budget are based on a $57 per barrel benchmark for crude oil and average daily production of 1.88m barrels per day as well as an increase in Internally Generated Revenue (IGR) to N50.3bn, owing to reforms in tax collection and management."
Obaseki said the impact areas for the 2022 fiscal year include road and bridges, which will gulp N30bn; education, N24.6bn; buildings, N21bn; enhancing the work environment, N15bn; health N14.1bn; public safety and security, N9.2bn and environment, N8bn.
Other critical areas include social and youth development, N5bn; agriculture, N4.6bn; technology enhancement, N7.6bn; effective fiscal and business-friendly regulatory policies, N4.5bn; water, N1.2bn; electricity, N2.7bn; citizen re-orientation, N1.5bn and social protection, N1.2bn.
According to him, the budget for the Fiscal Year 2022 is informed by the government's Making Edo Great Again (MEGA) agenda, which prioritises the promotion of social inclusion, economic empowerment for Edo citizens, through the deepening of investments in socio-economic, governance and security infrastructure; and through the implementation of initiatives that guarantee equal access to education, health care and social protection.
"The 2022 budget is centered on reinforcing a sense of belonging in the citizenry and providing them with the opportunity to understand, participate and contribute to deepening governance. We are providing our people with an oasis of hope even with the harsh realities that confront us as a sub-national in a country that is confronted by a number of developmental challenges," the governor noted.
On the achievements in the outgoing year, Obaseki said, "In 2021, even with the harsh economic realities, our government reached a number of milestones in our quest to deliver good governance to Edo people. Although we were faced with the challenge of the coronavirus pandemic and the shocks from its attendant impact on the economy as well as other headwinds, we judiciously managed the lean resources available to us to initiate and continue investments in human capital, infrastructure upgrade, enhance productivity in the business space and foster economic rejuvenation.
"In the outgoing year, we implemented an expansive institutional transformation exercise, which is aimed at retooling, unbundling, restructuring and energizing the systems and personnel in government to adapt and deploy bespoke practices to enhance service delivery.
"We launched the Edo State Public/Civil Service Transformation Program (EdoSTEP) to institutionalise and monitor this process, just as continuous in-service capacity enhancement programmes are ongoing at the John Odigie-Oyegun Public Service Academy."
Receiving the 2022 budget proposal, Speaker Edo State House of Assembly, Marcus Onobun assured the Governor that the legislative arm will continue to work harmoniously with the executive to ensure socio-economic growth and development of the State.
Download NAIJA NEWS app: