What Will Happen If Nnamdi Kanu Dies In DSS Custody – Father Mbaka [Video]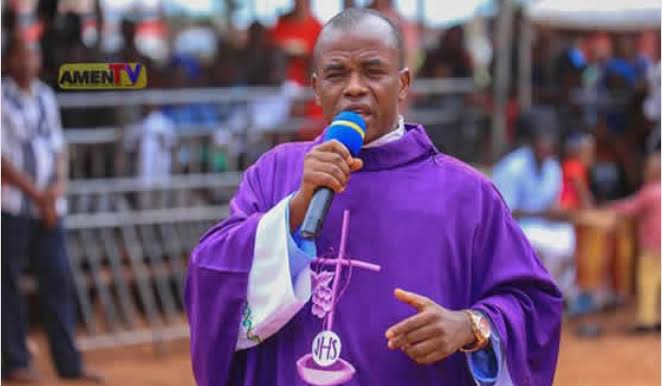 Popular Catholic priest, Rev. Father Ejike Mbaka, says the death of the leader of the proscribed Indigenous People of Biafra (IPOB), Nnamdi Kanu, will spell doom for the country.
Naija News reports that Kanu is facing an amended seven-count charge of terrorism and treasonable felony preferred against him by the Federal Government.
The IPOB leader has made three court appearances since June after security operatives brought him back from Kenya.
Kanu's trial has now been adjourned until the 19th and 20th of January 2022, while the Biafran agitator has been remanded in the custody of the Department of State Services (DSS).
In a recent sermon, Mbaka stated that the death of the Nnamdi Kanu would lead to renewed violence in the South East and truncate the already established peace in the region.
The priest stated that the IPOB leader has not committed any offence by fighting the injustices and marginalization faced by the Igbo in the country, asking Nigerians to continue to pray for his release.
Mbaka, however, appreciated the intervention of stakeholders in the region that yielded results with the cancellation of the lockdown and the call for Kanu's freedom.
He also frowned at criminals disguising as IPOB members to enforce the cancelled Sit-at-home order, asking security agents to arrest the enforcers.
The Spiritual Director of Adoration Ministry Enugu Nigeria (AMEN) advised people in Southeast states to go about their businesses without any fear.
He said: "The leader of the Indigenous People of Biafra, the hero, Nnamdi Kanu, is expressing his empathy with the people of the Southeast over what they are passing through. He came to know that Igbos are suffering because of him. And he would not wish that suffering to continue. Therefore, nobody should stop anybody from going to his or her business any Monday.
"All of us should keep praying for his (Kanu) release, and work towards his freedom because if he dies inside that place, it will cause more trouble. If he comes out, he will come out as a hero. We don't him to die because it is not Nnamdi Kanu's issue, it is the issue that concerns the people that are suffering. Nnamdi is not asking the government to do anything for him; he is speaking for the Igbo people."