2023: The South Will Square Up With The North To Produce The Next Nigerian President – Akande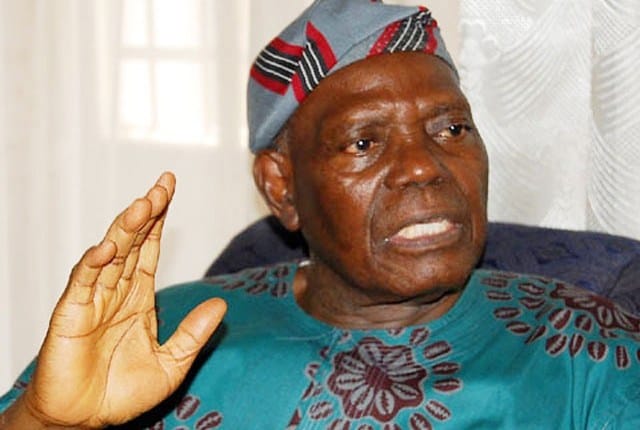 Former Interim National Chairman of the All Progressives Congress (APC), Chief Bisi Akande has said the south will not just lie low and get trampled in the race to the 2023 presidency.
Ahead of the 2023 presidential election, the debates have continued among Nigerians on the legality and desirability of zoning the presidency to a particular region.
Some stakeholders are of the opinion that it is the turn of the south to produce Nigeria's next president after President Muhammadu Buhari's tenure ends in 2023 but some others are of the opinion that zoning is non-constitutional and should not be enforced as the best candidate should be allowed to emerge.
However, when asked for his view on the matter particularly as it concerns the APC, Akande said the South will square up with the North, and "whoever becomes our candidate will win the presidency."
He spoke while briefing newsmen at the end of the Osun APC Elders' stakeholders' meeting held behind closed doors at his Ila country home.
Also, the elder statesman said he doesn't know who will emerge as the APC candidate for the Osun 2022 gubernatorial election but he is sure that the party will be victorious at the polls.
"I don't know who our candidate may be in the forthcoming guber election, but I can assure you that our candidate will win the election in 2022," Akande said.
Naija News understands that the absence of the Minister of Interior, Rauf Aregbesola at the meeting, however, threw up some dust.
The meeting is understood to be targeted at mending fences and relationships between APC leaders in Osun State with Akande revealing that it was the advent of COVID-19 that initially made them suspend frequent meetings.
He said, "the meeting had always existed, but because of COVID-19, the meeting had not been held for a very long time. It is the beginning of elders' activities to move the party forward in Osun.
"We are doing all our best to resolve every crisis. I can assure you that there will be no crisis within our party before the election. We come from different constituencies in Osun and we are going back to let our people know we have started to be more active than before."
Those at the meeting include: Senator Iyiola Omisore, ex Osun Deputy Governor, Titi Laoye-Ponle, ex deputy Speaker, House of Representatives, Lasun Yusuff, Senate spokesperson, Ajibola Basiru, ex- Health Minister, Dr. Isaac Adewole, among others.
They started their deliberations around 11:15am and ended around 1:30 pm on Wednesday.