You Wouldn't Have Become Kwara Governor Without Me – Lai Mohammed Tells Abdulrazaq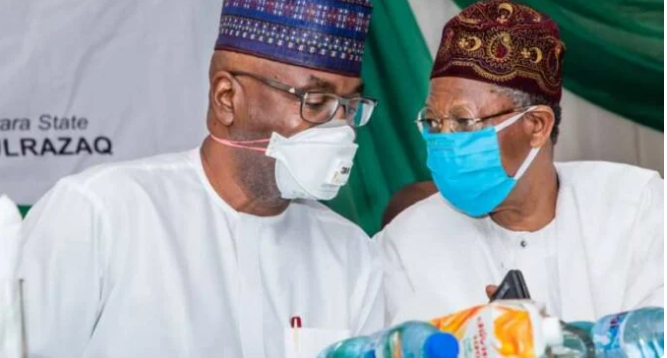 The Minister of Information and Culture, Lai Mohammed, has berated Governor Abdulrahman Abdulrazaq of Kwara State for claiming that he has no electoral value in the state.
Naija News reports that the minister is reacting to an earlier claim made by the governor that he cannot win any election in his ward and has no political influence in the state.
But in an interview with THISDAY, Lai Mohammed stated that the governor's claim that he has no political relevance in the state is laughable and should be ignored.
Mohammed stated that he has never lost an election in his ward, adding that he has a house in Kwara state while campaigning in 2003.
The minister stated that the governor is not qualified to hold a public office following his recent comments on the crisis rocking the Kwara State chapter of the All progressives Congress (APC)
Mohammed insisted that the governor and the APC would not have won the 2019 election without his support and help from some top politicians in the state.
He said: "But as I said, he accused me of zero electoral value. Well, I say that my records in every election, even in opposition, I have always won my ward. And again, that interview has done him a great disservice. If there is anybody who was fraudulent, I think it is him.
"Even when I was campaigning in 2003, I had a house in Ilorin. If in 2003, I had a house in Ilorin, how about 2019? My house in Oro was a Mecca for all of them. How many times did he come to my house in Oro when we won the by-election."
The minister, however, described the governor as "immature and reckelss" to have revealed sources of campaign funds in the 2019 governorship election in Kwara.
He said: "Am I a post office? The businessman that he said gave me the money, doesn't he know him? Did the man say he gave me money to go and give him?" the information minister queried.
"As I said, it's extremely infantile, reckless and desperate for a politician to start talking about who gave what for a political campaign.
"I mean, it's the height of desperation. It's the height of recklessness. It's the height of immaturity and that's exactly why I say this guy ought not to even be a councillor.
"I'm serious. I raised funds from friends and associates to execute the 2019 campaign in Kwara state. These funds were raised for governorship, national assembly elections and presidential election. It's on record that I received no penny from him to execute his own election.
"If he contributed, he contributed to his own pocket, not to my pool. I'm saying it and I challenge him. Did he give any money to the party for any logistics during the election?
"I'm going to give you a copy of the press release by the party, that the only person relied on for logistics was Lai Mohammed. I challenge him."