Flashback: APC Lures Goodluck Jonathan Years After Tagging Him Corrupt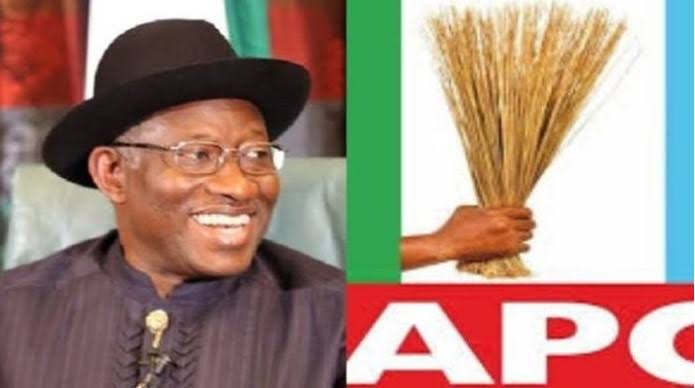 A deep thought about the game of politics and the switch between rival political parties ahead of elections in Nigeria would get you imagining why a political party would adopt a political office holder earlier attacked.
Politicians in the country since the return of democracy in 1999 have been switching between parties despite condemnation from their party while in the opposition.
The ruling All Progressives Congress on October 14, 2014, in a statement released through the national publicity secretary, Lai Mohammed, now Minister of Information and Culture had described the administration of former President Goodluck Jonathan as a corrupt government.
APC had urged Goodluck to speak out and take action on the Malabu oil scandal which it claimed was putting the country under the global searchlight as a corrupt nation.
The party charged the president to speak on the matter since half of the $ 1.1 billion paid to Malabu Oil and gas for oil field OPL 245 by two oil majors was allegedly used to bribe Nigerian officials, who in turn used the proceeds to buy private jets and armoured limousines.
APC in the statement had said, "Nigeria had never had it as bad, in terms of runaway corruption that has cost the nation billions of dollars in money that would have gone into national development, as it is having under the prodigiously corrupt Jonathan Administration.
"There is no better way to say this. The Jonathan Administration is swimming in corruption and the President has contumaciously allowed it to fester because his government is feeding fat on the proceeds of graft. He has even tried to use semantics to cover up the extent of sleaze, saying stealing is not corruption."
Meanwhile, years later and ahead of the 2023 general election, APC said it would welcome the former President should he consider joining the party.
The National Secretary of the party, John Akpanudoedehe while speaking on Channels Tv said like every other new entrant, Goodluck Jonathan if he eventually joined APC, would enjoy the rights and privileges extended to all members of the party.
Goodluck in his reaction to the alleged plan to join the ruling party described the report as fake news
The spokesperson of the former president, Ikechukwu Eze said there is no truth in the defection rumours.
He added that his principal is very busy with other activities and should he decide to defect, it will be communicated through appropriate channels, and not the rumour mill.
There had been speculations that the APC might crash after the government of President Muhammadu Buhari in 2023 and this might have led to desperation to adopt Goodluck as their candidate.