NLC Says No To Planned Increase In Electricity Tariff Price By FG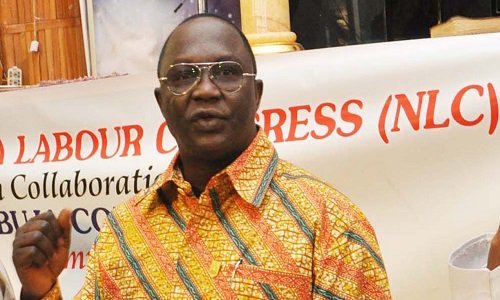 The alleged move by electricity distribution companies to increase the tariff price for electricity in Nigeria has been rejected by the Nigerian Labour Congress (NLC).
According to the NLC in a statement on Wednesday through its President, Ayuba Wabba, every arsenal available to labour will be deployed to ensure there is no illegal increase in electricity tariff.
He made the submission after reports emerged that the federal government has asked Nigeria's 11 Electricity Distribution Companies (DisCos) to increase tariff from the 1st of September 2021.
The directive was given in a letter by the Nigerian Electricity Regulatory Commission (NERC) titled "Tariff Increase Notification."
According to the document titled:"023/EKEDP/GMCLR/0025/2021, dated 25th August 2021, and seen by The Nation, NERC gave DisCos the leverage to charge a service-based tariff.
It was gathered that the Eko Electricity Distribution Company (EKEDC), has already officially informed its customers on the decision of upward tariff adjustment effective from 1st September 2021.
Reacting to the report, the NLC president observed that it must be mere speculations as any increase at this point will amount to insincerity on the part of the government after it promised stakeholders that there will be no increase in tariff until negotiations are concluded.
Wabba however added that should the report be confirmed, labour will firmly resist such a move.
"It is in light of this that we dismiss the ongoing speculation on increase in electricity tariff as mere speculations," Wabba said.
"We, however, find it prudent to put you on notice should government make true the swirling speculation by approving an increase in electricity tariff.
"Organised Labour will be left with no option than to deploy the industrial mechanisms granted in our laws for the defense of workers' rights," he added.
Meanwhile, the immediate past Director-General of the National Bureau of Statistics (NBS), Dr. Yemi Kale, has denied reports that he was mandated and pressured to release falsified data on the economy while in office.
Following his replacement on Monday, the former Statistician-general of the Federation appeared on The Morning Show on Arise TV on Tuesday.
During the interview, Kale was asked how he handled criticism from All Progressives Congress (APC) members and from the Presidency when data from the NBS were unfavourable.
Kale stated that he decided not to falsify any data on the economy because he had promised to do the job properly, adding that he was ready to be fired at any time.