Biafra: Nnamdi Kanu Full Of Deceit And Blackmail – Uche Mefor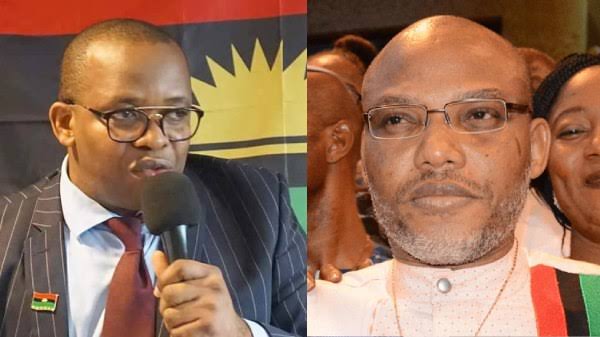 A former deputy leader of the Indigenous People of Biafra (IPOB), Uche Mefor has accused the embattled IPOB leader, Nnamdi Kanu of destroying lives with his selfish agenda.
Mefor said Kanu, who is currently in the custody of the Department of State Services (DSS) has a culture of lies, deception, and blackmail.
He alleged that Nnamdi Kanu through the IPOB group has destroyed many lives who unfortunately can't speak for themselves.
Mefor in a Facebook post on Wednesday, accompanied with a video of Ifeanyi Ugwuanyi, the governor of Enugu State speaking in an interview with BBC News Igbo said it will take generations to undo what Kanu and IPOB have done.
He wrote: "I maintain that the culture of lies, of deception, and of blackmail of Nnamdi Kanu and IPOB with reference to those lives destroyed and who cannot speak for themselves will take generations to undo.
See how they falsely label and destroy people's character with impunity.
When I said that what goes up must come down, I meant every bit of it. Whatever anybody sow, I for those perpetrators. They shall be alive to experience the same pains they inflicted on those vulnerable who are unable to speak for themselves.
The forces of heaven and earth shall continue to work in dissonance and in discordant patterns for all of you. Time shall definitely tell.
Naija News recalls Uche Mefor had resigned as the deputy leader of the Indigenous People of Biafra (IPOB) led by Nnamdi Kanu in 2020.
Apart from resigning as the IPOB deputy leader, Mefor has also floated a new radio station called: "Biafra Human Rights and Freedom Radio (BHFR)".
The development is coming after Naija News had earlier reported that there seems to be a crack in the Indigenous People of Biafra (IPOB) with Nnamdi Kanu, said to be having a feud with his deputy, Uche Mefor.
Meanwhile, the minister of justice and Attorney-General of the Federation, Abubakar Malami, on behalf of the Federal Government of Nigeria has adjusted some charges filed against the leader of the Indigenous People of Biafra, Nnamdi Kanu.
The minister disclosed that the court would be hearing cases on murder, terrorism, banditry and criminality as the ongoing trial has taken another course.