2023: Nigerians Can't Wait For Buhari Presidency To End – PDP Replies Shehu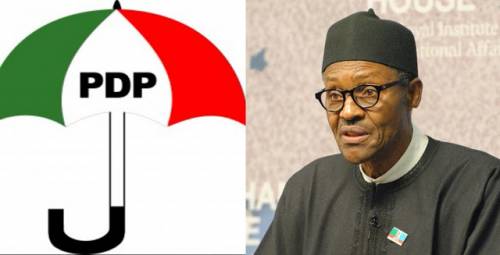 The opposition Peoples Democratic Party (PDP) has stated that Nigerians are already tired of the Muhammadu Buhari presidency and can't wait for his tenure to end in 2023.
The PDP in a statement on Tuesday signed by its National Publicity Secretary, Kola Ologbondiyan said anything that will keep the Buhari government in office longer than May 29, 2023, will be firmly resisted.
The PDP was responding to an earlier report in which the presidency had admonished the Peoples Democratic Party (PDP) to forget about returning to power when the tenure of President Muhammadu Buhari expires in 2023.
The Senior Special Adviser to the President on Media and Publicity, Garba Shehu made the submission while speaking on Tuesday after the Eid-el-Kabir prayer in Abuja.
According to him, President Buhari and the ruling All Progressives Congress (APC) have done so much for Nigerians that the citizens will not vote for another party come 2023 when he leaves office.
He told the PDP and other opposition parties to forget about displacing APC as the ruling party in 2023 because Nigerians will not forget the legacies of the Buhari administration in a hurry.
Replying in a statement titled 'Buhari Presidency's 2023 Comments Smacks of Self-Succession Plot' the PDP said the position of the president's spokesperson is provocative and suggestive that Buhari wants to cling to power.
It added that Nigerians have suffered enough hardship under the Buhari government and deserve something better.
The statement reads: "The Peoples Democratic Party (PDP) says the assertion by the Buhari Presidency that Nigerians will be waiting for President Muhammadu Buhari "to show the way in 2023" has further heightened public apprehensions of self-succession plot by the cabal in the Presidency."
"Nigerians were jolted when President Buhari's spokesman, Shehu Garba, publicly announced in Daura, Mr. President's hometown, that President Buhari "constitutes a political obstacle" which those who seek to succeed him, come 2023 "cannot dismantle."
"Such statement by the Presidency, which is in its last lap of the second and final tenure in office, is not only provocative but also smacks of plots to derail our constitutional democratic order."
"Perhaps the comment by the Buhari Presidency explains why there have been heavy onslaught against our institutions of democracy as well as the Electoral Act."
"Our party and indeed the majority of Nigerian across board and even across party lines caution President Buhari's handlers to note that such plots cannot stand as it will be firmly resisted by the people."
"Shehu Garba should be bold enough to announce that President Buhari will be on the ballot for another term in 2023 and watch how Nigerians will respond."
"The 1999 Constitution (as amended) is clear on the tenure of office of the President and such cannot be extended under any guise or conditions whatsoever."
"It is imperative for Shehu Garba to note that Nigerians have been subjected to the worst forms of hardship under the Buhari-led All Progressives Congress (APC) administration and will never allow anything that will keep this administration in office a day beyond May 29, 2023."
Source: Naija News