Southern President In 2023 Not A Must – Babagana Zulum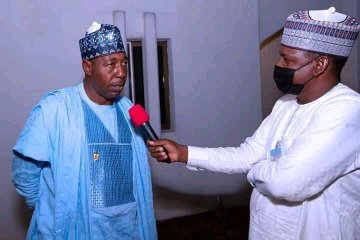 Governor Babagana Zulum of Borno State has stated that zoning the 2023 presidential ticket to the southern part of Nigeria is not a must.
Naija News reports that the Borno governor was reacting to a resolution by the 17 southern governors after their meeting in Lagos.
Joining the clamour for rotational presidency, southern governors had stated that the zone should be allowed to produce President Muhammadu Buhari's successor for unity and fairness.
Speaking in an interview with Channels Television on Wednesday, Zulum reiterated his support that the southern part of Nigeria should produce the president in 2023 but cautioned against the use of "must" when such matters are raised.
"I have said it times without number that I, Professor Babagana Zulum, I am of the view that the presidency should go to the south in the year 2023 because the unity of our country is very important," he said.
"Secondly, inclusivity is very important. Thirdly, I am in the APC. Six or seven years ago, APC had zoned the presidency to northern Nigeria based on the agreement that in the year 2023, the presidency should go to the south.
"But again, this is politics. We are supposed to meet and discuss this issue among ourselves, among the political class.
"This statement that people are saying that the president must go to the south, I want them to remove the word must."
The Borno governor also stated that the open grazing ban in the Southern part of the country will not work.
Zulum noted that the ban won't work until the insecurity situation as well as the socio-political and economic dimensions of the crisis is addressed.
He said the socio-political and economic dimensions of the insecurity in the country as well as the insurgency war in the North-East which he said is fast spreading to other parts of the country must first be addressed.