No Matter The Killings, Biafra Will Emerge – Nnamdi Kanu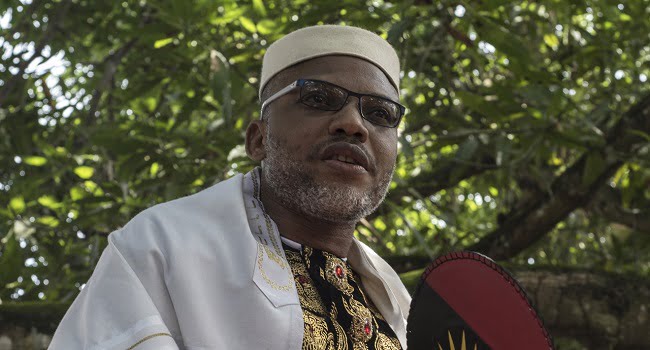 The leader of the Indigenous People of Biafra, Nnamdi Kanu, on Thursday, noted that no matter the attacks on his loyalists in the Southeast, the Biafra nation will emerge.
The IPOB leader had accused the Nigerian Army and operatives of the Nigeria Police Force of killing members of the group with the aim of stopping the agitation.
Security agencies on their own part had also accused members of IPOB and Eastern Security Network of killing their personnel in the region.
According to Kanu, the actualization of Biafra would still take place despite the alleged killings.
The IPOB leader stated this on Thursday in a post on his Twitter account.
The tweet reads, "At the end of this torturous journey, history will record that referendum, NOT bullets, determined their fate.
"It matters not how many they kill; one outcome is inevitable, Biafra MUST emerge a FREE nation. The sooner the Caliphate understand this inevitability, the better for all".
In another development, a former Archbishop of the Catholic Diocese in Lagos, Anthony Okogie, says Nigeria's problems became worse under the Muhammadu Buhari government.
Okogie said this at his 85th birthday thanksgiving mass and 50th episcopal ordination anniversary which was held at the Catholic Church of Assumption on Wednesday, in Lagos.