Wike Under Fire For Threatening To Kill IPOB Members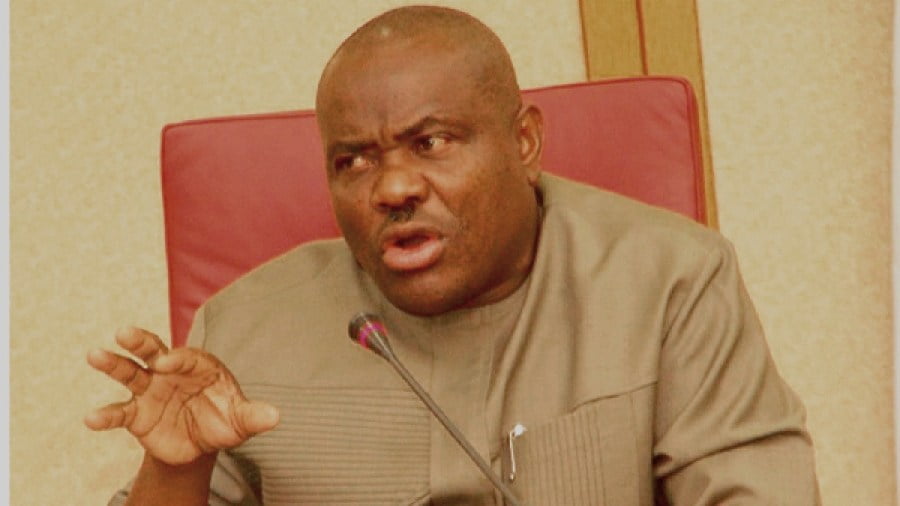 Governor Nyesom Wike of Rivers State has come under fire for threatening to kill members of the proscribed Indigenous People of Biafra (IPOB) causing mayhem in the state.
Speaking during the commissioning of some projects in Ahoada community on Wednesday, Wike had threatened the outlawed group and criminals killing people and security operatives in the state.
The governor boasted that the remains of the criminals will be eaten by vultures and their parents will never bury or see them again.
However, many Nigerians have taken to their social media page to express their displeasure over the comment made by the governor, accusing him of planning extra-judicial killings.
See some of the reactions below:
Wike is too unrefined for a lawyer. He has some measure of dictatorship embedded in him.

This should be uncharacteristic of a democratic governor.

— Chika of Ebonyi (@MistaChika) June 3, 2021
Except for being a little more circumspect, isn't this the way a government that is interested in the protection of lives and property should sound? Aren't we all supposed to stand to condemn anyone killing and destroying property? Well done Wike! https://t.co/0uQlkZdAEO

— Mobolaji Wealth (@beejaygreen) June 3, 2021
Wike chats shit most times. Imagine talking about killing people and their parents won't find them. There surely must be consequences for Politicians threatening people

— Imoh (@ImohUmoren) June 3, 2021
You can't be mentally normal if Buhari's tweet annoyed you last night but Wike's threat is just bants…

You're intensely insane..
Get help.

— David Abdulrazak Atta (@the_davidatta) June 2, 2021
I said this before and I'll say it again, Gov Wike just doesn't cut it right in a Democratic setting and as a lawyer. When we see what is wrong,let's call it out before the same thing consumes us.

Another low 👎. https://t.co/UQUyd1xnWE

— theonly1acre (@theonly1acre) June 3, 2021
Wike legit gathered youths and threatened to murder them, cut their heads off and dispose of their bodies.. and everybody be like "Wike again lmaooo" and kikikiki-ing all over the place.. Hypocrisy and selective outrage is never the answer.. Wike might be president someday.. pic.twitter.com/t77CxOqmtj

— Just Arthur… (@KingArthurOG) June 2, 2021
All of you looking at me like you support me, I beg carry your support and go!! Wike my guy 😂😂

— Mohammed Jammal (@whitenigerian) June 2, 2021
Here is Wike threatening extra judicial killings and boasting IPOB terrorists will be killed and eaten by vultures and their parents will never bury or see them again. The usual suspects will unlook because they fear Wike. This was just today o! pic.twitter.com/260qvLevz9

— Daddy D.O🇳🇬 (@DOlusegun) June 2, 2021
Omo Wike don finish IPoB totally 😂🤣 pic.twitter.com/z0GYoaRxXC

— Engr Yasir Arafat Jubril🏗🏢🌉🛤🛣 (@oil_shaeikh) June 2, 2021
Wike is a lawyer who does not respect the law.

He has the garnishing of a dictator.

— Morris Monye💙 (@Morris_Monye) June 3, 2021
Download NAIJA NEWS app: