Nnamdi Kanu Names Buhari's Aide 'Behind Assassination' Of Ahmed Gulak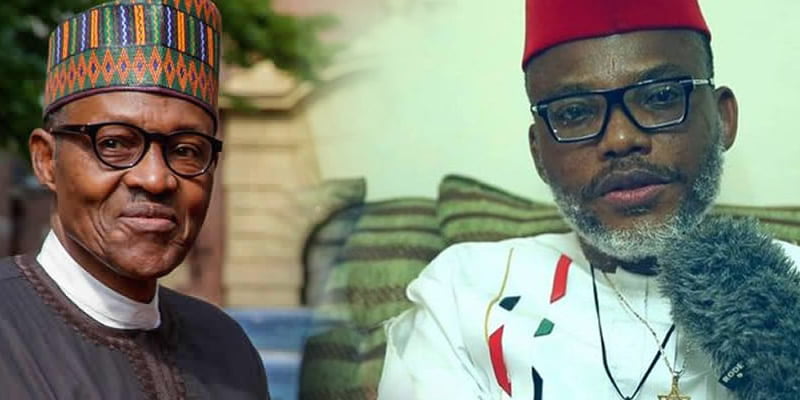 The leader of the Indigenous People of Biafra (IPOB) Nnamdi Kanu has accused President Muhammadu Buhari's National Security Adviser (NSA), Babagana Monguno, of masterminding the killing of Ahmed Gulak.
Naija News recalls that a former political adviser to Goodluck Jonathan, Ahmed Gulak, was on Sunday assassinated in Owerri, Imo State, on his way to catch a flight at Sam Mbakwe International Cargo Airport.
Following his murder, a northern group had threatened to carry out a reprisal attack if those behind Gulak's killing were not brought to book.
The Nigeria Police had blamed the proscribed IPOB for the killing, while also claiming to have killed the assassins.
But the group, through its spokesperson, Emma Powerful, had vehemently denied carrying out the assassination of the top APC chieftain.
In a bid to clear his name and that of his group, Nnamdi Kanu, on Monday released an audio tape believed to be the voice of the slained Gulak saying Mungono should be arrested and prosecuted because he is a threat to the security of Nigeria.
The former presidential aide called on President Buhari to sack the NSA and then arrest and prosecut him for alleged corrupt practices.
The audio tape says, "Awusu Billahi Mina Saitani Rajim. I want to say what I have been saying over time. Mr President, remove, arrest and prosecute Maj. Gen. Aliyu Mungono, the National Security Adviser
"Mr President, remove, arrest and prosecute Major General Aliyu Mungono, National Security Adviser. He's corrupt, he's clueless, he doesn't have the interest of Nigeria and Nigerians at heart. And that Mungono is a hypocrite.
"If he thinks he has available power within him, let him arrest me. He's corrupt, he's a thief, and he's a problem to the security of this country. You people are afraid. I'm not afraid. Mungono is only busy stealing the money," the audio tape revealed.
Reacting to the audio, Kanu said, "His killer that they want to pin on Nnamdi Kanu. I pray seven times every day, this God I worship that if you cannot protect me, then what am I doing. What is he doing as God?
"They got the date wrong. If they had killed him today (Monday), they would have blamed it on me. But they got the date wrong. And they never knew that this video would come out. This is the reason why you must work very hard to ensure the disintegration of Nigeria.
"Nigeria is an evil enclave. Listen. Let's listen to the man that they killed and wanted to blame it on Nnamdi and IPOB. Let's listen to him.
"This is Ahmed Gulak, asking their so-called president to do something. To do what, what are you asking the President to do? The man they killed in Owerri, blaming Nnamdi Kanu and IPOB. The man that they themselves killed. That's the name of the man that killed him," the IPOB leader said, according to SaharaReporters.