Nigerians React As Remi Tinubu Assault Woman In Lagos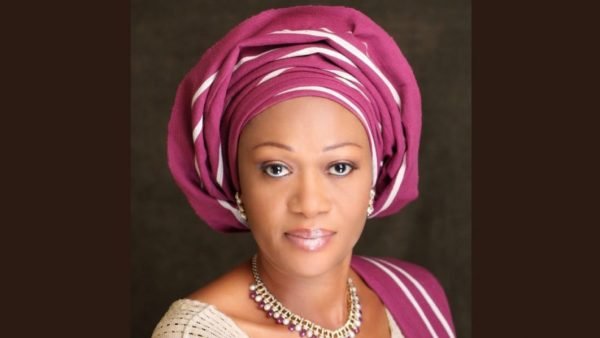 Nigerians have condemned the lawmaker representing Lagos Central in the Senate, Oluremi Tinubu, for calling a woman 'thug' at the South-west zonal public hearing of the constitution review on Wednesday.
Naija News had reported that the former Lagos First Lady was caught on camera clashing with some people at the event which was held at Marriott Hotel in Lagos.
The review had residents queuing to register before they were allowed entry into the hall. However, some of those in the queue were later informed that registration had closed for the day.
But a few minutes later, some lawmakers from Oyo state passed the queue and were about to be ushered in, leading to a commotion at the front entrance.
As the shouts continued near the front door, with those in the queue insisting that they had been unfairly treated, the Oyo lawmakers were about to be hurriedly ushered through the backdoor, but the people followed them, preventing them from being allowed into the hall.
However, after some consultation with the personnel at the door, Senator Tinubu showed up at the backdoor to allow the lawmakers in.
As she was about to do this, a woman, who complained about being denied entry, decried the partial treatment and voiced out her frustration.
Seeing this, the senator,  who is an ordained pastor of the Redeemed Christian Church of God (RCCG), beckoned on her and two others, only to call the woman a "thug" for speaking too loud.
"We don't want thugs here," Tinubu said.
Angry with the former First Lady's comments, those in the queue insisted that such a derogatory word shouldn't have come from the senator.
The senator was asked to apologise but she refused.
"I will not apologise for what I said. I saw it and I said it," she maintained.
However, some Nigerians have to taken to the micro-blogging site, Twitter to condemn the actions of the Senator and for behaving unruly in public.
The Twitter users recalled her past clashes with her colleagues like Senators Smart Adeyemi, Elisha Abbo, Dino Melaye, and many others.
The users also recalled her statement during the 2015 general election when she claimed that Igbos in Lagos cannot be trusted.
Below are some of the tweets:
The Outgoing First Lady is gentle, caring and even support the Masses against her husband.
But the Incoming First Lady will be a disaster to NIGERIA 🇳🇬 let's resist this Thug incarnate.#ChildrensDay Remi Tinubu l Bashir l Southwest pic.twitter.com/XUyOsyhI3G

— Abimaje Ben (@BenAbimaje) May 27, 2021
Remi Tinubu is too loud, arrogant and controversial for someone that is likely to be the next first lady.

— Premier (@SodiqTade) May 27, 2021
whatever will make this woman first lady, may God not let it happen https://t.co/xuWBNec7OC

— Bamitale Ayodeji (@Thvls_Advocate) May 26, 2021
I wish I get the opportunity to watch #YourViewTVC on TVC today. I want to hear what those ass-lickers will say about their First Lady, Remi Tinubu. I'm very ready to call in if they fail to mention this particular issue.

— Temi (@potter_lite) May 27, 2021
As much as I STRONGLY condemn "madam Senator " for calling a fellow civil human being a 'thug', I'd also like to point out that at least, 75% of typical Nigerian would speak or behave the same or worse if by CHANCE or by DESIGN they occupy the same position she occupies.

— Retired Nigerian 🥴🥴 (@Bamidele__Felix) May 27, 2021
Tell me one time Remi Tinubu has ever been in the news for anything worthy? It's either she's fighting, blackmailing or threatening citizens. That's Nigeria's First Lady that never was. Agbero Senator, Fake Pastor. Gees!!!! Aunty, you are just as razz as you come.LEEMAO !!!

— theonly1acre (@theonly1acre) May 27, 2021
I'll say this again,
Remi Tinubu, the matriarch of the Lagos thug will never be a first lady in Nigeria.

— Ayemojubar (@ayemojubar) May 27, 2021
E bad as e bad, I'd still prefer to call an Aisha Buhari my First Lady than a Remi Tinubu.

Madness is not entertainment.

— FS Yusuf (@FS_Yusuf_) May 27, 2021
With Patience Jonathan,
You have a woman who actually cared.

With Aisha Buhari,
You have a woman who spoke against her own husband's madness.

With Remi Tinubu
You will have a First Lady who harass and tyrannise anyone who speaks against govt.

May this disaster not hit Nigeria.

— #OurFavOnlineDoc 🩺🇳🇬🇬🇧💎 (@DrOlufunmilayo) May 27, 2021
I wonder when our future First Lady, Remi Tinubu will be in the news for the right reasons.

No class whatsoever.

— Morris Monye💙 (@Morris_Monye) May 27, 2021
Breaking:
So at the @NGRSenate constitution review PUBLIC hearing in Lagos today
Your intending First Lady @oluremitinubu in a heated argument with my brother @opeyemifolarin1 said only she decides who enters

So who can enter?
And of course you guess right

Thread

— Duke of Motherland (@isexcel) May 26, 2021
Source: Naija News