Wike Threatens To Resign As Rivers State Governor If…..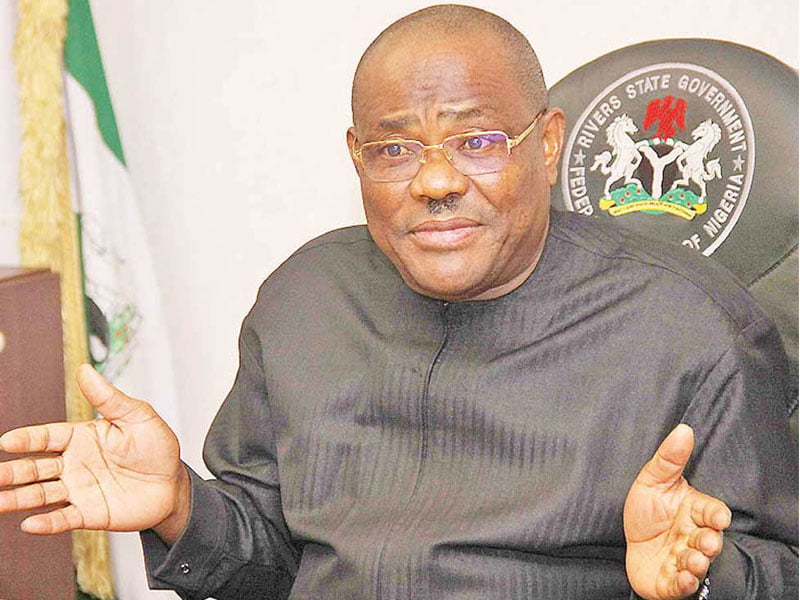 Rivers State Governor, Nyesom Wike has vowed to resign if his predecessor and Minister of Transportation, Rotimi Amaechi, can point to any federal project he has attracted to the state since 2015.
The Governor made the threat on Saturday when he received some politicians in the state who defected from the All Progressives Congress (APC) to the Peoples Democratic Party (PDP).
Those who defected include two former chairmen of the All Progressives Congress (APC) in Rivers, Dr. Davies Ikanya and Igo Aguma.
Wike also accused Amaechi of failing to account for some state funds and resources during his tenure as the Rivers State governor.
He however said during his own tenure as a federal Minister of State for Education during the tenure of ex-President Goodluck Jonathan, he attracted many projects to Rivers State.
He, therefore, challenged the Minister to emulate him and bring federal attention to the plight of the state which will, in turn, result in the creation of job opportunities for indigenes and residents of Rivers.
Other APC chieftains who defected to PDP were Chief Ogbogbo Nnamdi, Isobo Jack, former caretaker chairman; Paul Nwankwoala, former APC legal adviser; Faaye Franklin, Chief Andy Nweye and Alamese Martins-Yellow, Ilamabo Mirila, Dr. More Oja-Chinda, Benibo Anabraraba, Alphine Whyte, and Wisdom Wakama.
Meanwhile, the National Leader of the All Progressives Congress (APC), Asiwaju Bola Tinubu, and other leaders of the party from the southwest region have taken a stand on the issue of Yoruba Nation.
The leaders at the end of their meeting on Sunday held at the Marina house in Lagos, unanimously rejected calls for Yoruba Nation and endorsed the unity of Nigeria.
The meeting was attended by the Speaker of the House of Representatives, Hon. Femi Gbajabiamila, Chief Bisi Akande, South-West APC governors, and other leaders.
At the end of the meeting, a communique released by the leaders called for unity in the country which they said is necessary for Nigeria to grow.
They also condemned the rising spate of killings, kidnappings, banditry, and general insecurity in various parts of the country, urging the government to deploy necessary resources to combat the challenges.