Ebonyi Attacks: Umahi Threatens To Arrest Anyim, Egwu, Others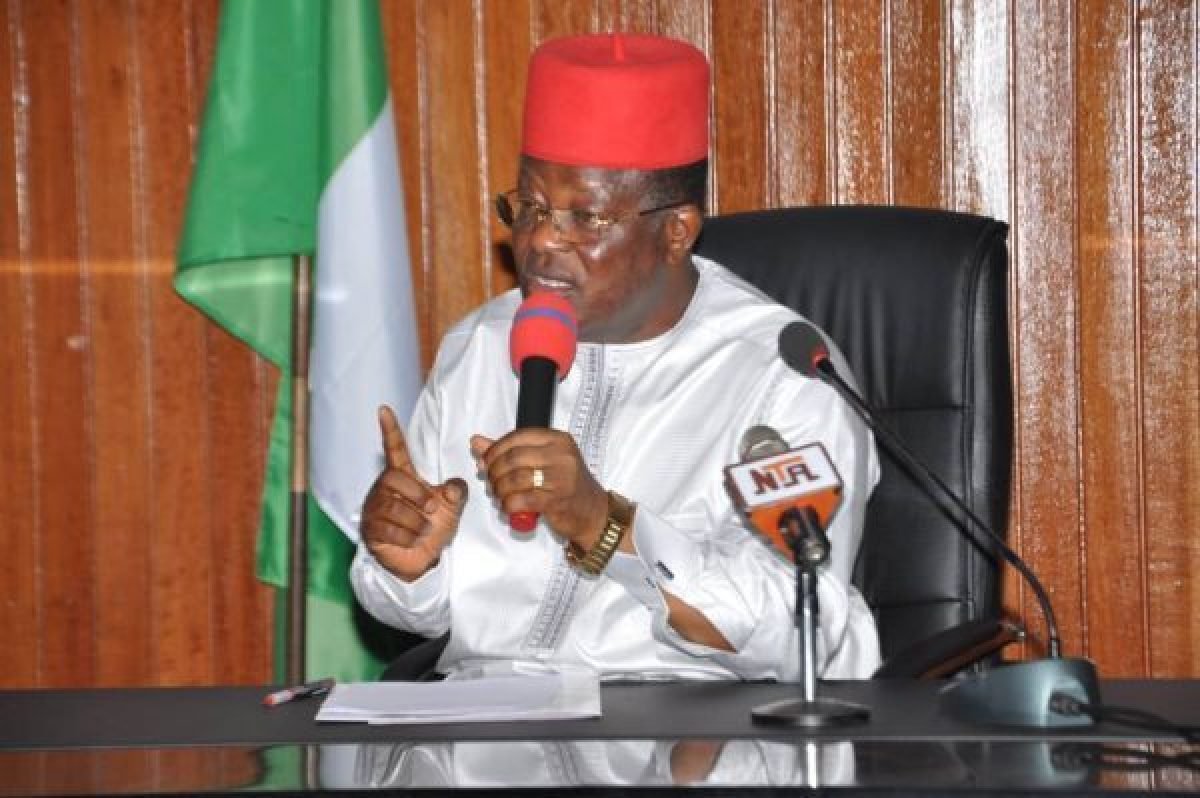 Governor David Umahi of Ebonyi State has threatened to arrest some prominent members of the Peoples Democratic Party (PDP) in the state.
Speaking on Wednesday while receiving the Assistant Inspector-General of Police, Zone 9, Okon Ene, governor Umahi threatened to arrest a former governor of the state, Senator Sam Egwu, former Senate President, Anyim Pius Anyim, and other PDP leaders for inciting violence in the state.
He asked the police chief to invite the PDP leaders for questioning, adding that those terrorizing the state were within.
Umahi accused the PDP leaders of seeking to bring down his administration because of his decision to ditch the Peoples Democratic Party to join the All Progressives Congress.
He said, "It's very regrettable that a former governor of this state, who appropriated the wealth of this state unto himself, could be inciting a crisis in the state and incite the youths of the state and nobody is doing anything about it.
"When we had an attack on the Ngbo axis, his own local government, all he could do was to go and organise a press conference and said Fulani people came and killed the people.
"He didn't come home to ascertain the situation and see things for himself. So, that statement incited more crises within that location.
"But the truth remains that the Agila traditional ruler was the one that hired mercenaries whether they are Fulani herdsmen or who to do the killings. And how did we know?
"The Agila traditional ruler was calling our people on the phone and intermittently giving the phone to a herder to talk to us. And the herder would talk to us and say, 'We are with that corpse that you are looking for. We did the killing.
"Only two days ago, the same Dr Sam Egwu again started saying that the killing of the police is masterminded by Ebube Agu, which is our own internal control security. This tells you he knows about the killings.
"Let me tell you —the same Sam Egwu, Linus Okorie; I have their names: Ali Odefa, Chidiebere Egwu, Silas Onu, Amos Ogbonnaya and Fred Udeogu, are the people inciting these bandits. None of them, including Anyim Pius, has ever come out to condemn the killings in Ebonyi State.
"So, don't look far. These are the people fighting you, these are the people killing you. This is the truth. If you want to find out, go to their Facebook and check."