Buhari, El-Rufai Not Interested In Releasing Abducted Kaduna Students – Sowore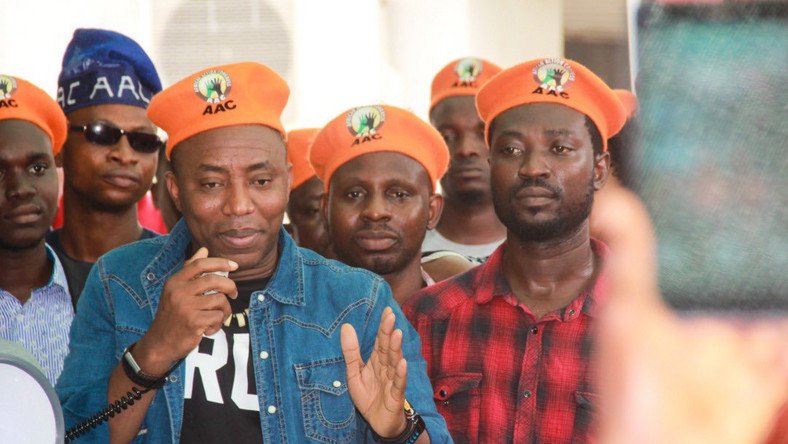 Former AAC Presidential candidate and human rights activist, Omoyele Sowore, has berated President Muhammadu Buhari and Governor Nasir El-Rufai of Kaduna State.
Sowore, the publisher of SaharaReporters, accused Buhari and El-Rufai of being uninterested in the release of 39 abducted students of the Federal College of Forestry Mechanisation, Afaka, Kaduna State.
Speaking during a protest by the parents of the abducted students to demand the release of their children at the National Assembly, the activist said Buhari has failed in his constitutional responsibility of protecting lives and property.
He also slammed the Department of State Services (DSS) over threats to go after Nigerians who speak against the killings and kidnappings rocking the country.
Sowore said, "I feel sad for Nigeria, I feel sad for all these students in captivity; students who wanted a bright future. They could as well have taken to kidnapping themselves so that they can make quick money but they opted to go to school and look at what our government has done to them.
"As a person who has been kidnapped before by the Nigerian government, I know what it means to be in captivity. I know what it means to have zero expectation of when you will leave and when you will join your family.
"Nobody is doing anything about your plight. They are not interested. The Federal Government does not care about you. The Kaduna State Governor does not care about you, I heard him say he will never negotiate with terrorists. The same El-Rufai who was blaming former President Goodluck Jonathan for not negotiating with the Boko Haram when Chibok girls were kidnapped has suddenly realised that he can't negotiate with terrorists.
"I am not here to appeal to the government. The Nigerian government has failed the Nigerian people. It is up to the Nigerian people to decide how long they want to continue to tolerate this failure. Don't be afraid of security agents because they have failed too. Soldiers are being kidnapped. A DSS operative was kidnapped, they paid ransom and they killed him and nothing happened.
"The reason they will not negotiate with terrorists is because the government itself is a terrorist government. Otherwise, they don't know how to negotiate with terrorists."
He queried the discrimination against abducted students in Afaka, noting that if the Buhari government can pay the sum of N800 million as ransom for the release of kidnapped schoolgirls in Niger and Katsina states within a week, same should be done for Afaka.
"There is discrimination against Afaka forestry students; there is something there and it has to do with hardened hearts and wickedness of Kaduna state government and Federal Government. This government said they don't know how to negotiate with terrorists. There was a time Boko Haram appointed Buhari to be their negotiator. If he can be trusted enough by Boko Haram, he should trust himself enough to lead negotiation to release the Afaka and Greenfield students.
"They love it when people are suffering; they love it when there is pain. Blood and tears are flowing in the land. That is why I am not here to appeal to any government, the truth is that you don't have a government and the earlier you accept there is no government, the better for you.
"We must not live in the nightmare that these students have died in the captivity. May it never happen to any of us."