Isa Pantami: Nothing Like Repentant Terrorist – Nnamdi Kanu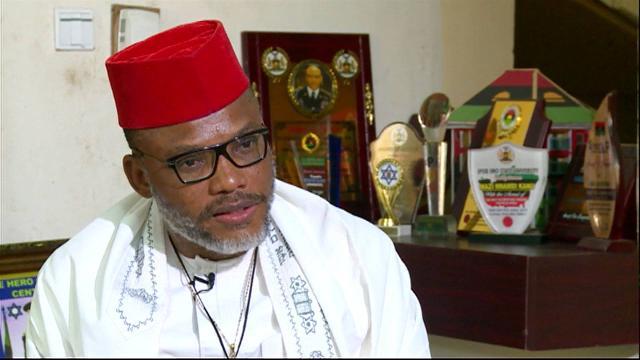 The leader of the Indigenous People of Biafra (IPOB), Nnamdi Kanu, has attacked Nigeria's Minister of Communication and Digital Economy, Isa Pantami, over comments praising terrorist groups.
In a post on his Twitter handle, the pro-Biafra activist stated that a terrorist sympathizer cannot repent.
Nnamdi Kanu claimed that terrorism is a form of Islamic ideology as well as a religious duty for every Muslim.
He wrote: "In case you forgot, TERRORISM is a form of #Islamic ideology, as well as a religious duty for every Muslim that believes in JIHAD.
"Therefore, there can never be anything like a repentant terrorist, not even some Minister named Isa Pantami (@DrIsaPantami)."
Naija News reports that Pantami had once revealed how joyful he used to feel with the killing of those he considered infidels.
The minister said this in three audio recordings of his teachings in the 2000s, when he condemned deadly operations of the then Al Qaeda and Taliban elements who were on a campaign to obliterate the West and conquer other parts of the world.
The minister said; "We are all happy whenever unbelievers are being killed," Mr Pantami said. "But the Sharia does not allow us to kill them without a reason."
"Our zeal (hamasa) should not take precedence over our obedience to the sacred law," he added.
Pantami in his submission while responding to audience questions about his views on the then leader of the terrorist group, Osama Bin Laden, stated that he still considers the leader of the extremists a better Muslim faithful to himself.
But the minister recanted the comments on Saturday, saying that he has "changed several positions taken in the past based on new evidence and maturity."
Isa Pantami blamed immaturity and limited knowledge for his views back then.