Kannywood Actress, Rahama Sadau Again Under Attack Over 'Indecent' Dress – [Photos]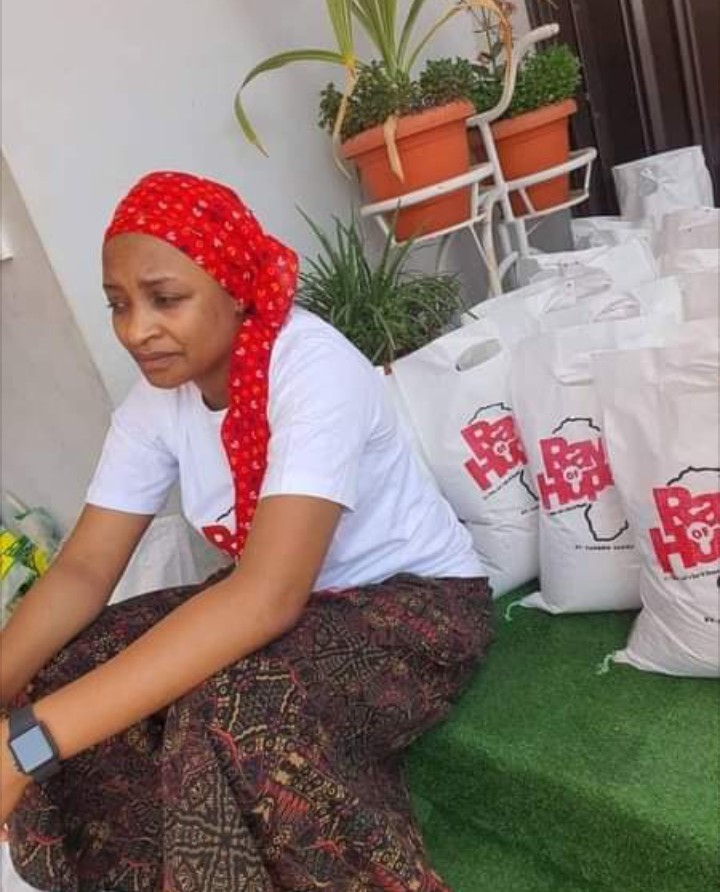 Popular Kannywood actress, Rahama Sadau, has come under attack again over her style of dress which is termed anti-Islam by some Muslims.
Naija News understands that the embattled female actress came under attack again after one George Onmonya Daniel shared her photos on social media, applauding her for donating food items to the less privileged.
Daniel shared the below:
However, a Facebook user identified as Abubakar Suleiman Idris, in his submission to what Daniel posted on his page, said the netizen was only supportive of Sadau because of his hatred of the North.
According to Idris, Daniel and every other person in support of Sadau's charitable donation and style of dress, are anti-north or Islam because the actress's way of life is not in line with her region and religion.
"George, we know you will support or write good about her because of her way of life is not in line with northern or Isalm. You are anti north or Islam," Idris wrote.
Baffled with his reaction, Onmonya asked Idris to explain what meant by the actress' way of life and he said again that "Her mode of dressing is one, and the way she conducts herself is another and again because people from the north complained about it you like it and continue to support it because of your hatred of the north,"
However, contrary to Idris' belief and submission on the actress, another Facebook users, Ibrahim Bature from Kano State, accused Idris of hypocrisy and turning a blind eye when daughters of the political elite wear skin-baring outfits.
He said: "El-Rufai's son is also a muslim, prior to his wedding, his wife's dress was revealing and provocating, he was even kissing her in the photo shots, some iman criticised him, saying it is not in line with nothern and islam, he insulted them and their generations, nothing happened, because he is El-Rufai's son and cannot be touched, I have seen videos of Ganduje's daughter dancing and shaking her booty and boobs, during her wedding, recently it was Buhari's son and the Emir's daughter, her dress was also not in line, but hypocrites won't say a word, because you have two justice systems, for the vulnerable and for they rich and powerful".
Meanwhile, an anonymous Nigerian man has taken to a popular Talk Show on Radio to narrate an ordeal he's presently in.
According to the man, he had a one-time thing with his mother-in-law, which eventually led to the birth of his son, who's now his brother-in-law. He added that he's confused about what to do as his wife is quite amazing to him.