What You Must Do If FG Outlaws You For Biafra Agitation – Nnamdi Kanu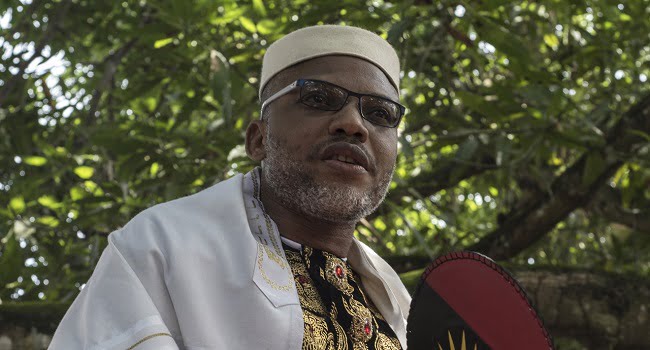 The leader of the Indigenous People of Biafra (IPOB), Nnamdi Kanu, has asked Nigerians to accept their fate if the government outlaw them for backing Biafra or the
#RevolutionNow movement.
In a post on his Twitter handle on Friday morning, the IPOB leader noted that South African hero, Nelson Mandela was also outlawed.
Quoting Mandela, Nnamdi Kanu wrote: "When a man is denied the right to live the life he believes in, he has no choice but to become an OUTLAW" – Nelson Mandela.
"If they see you as an OUTLAW because of your pursuit of #Biafra or #RevolutionNow, accept it. It's by being an outlaw that Mandela FREED South Africa."
Meanwhile, IPOB on Thursday disclosed that it has killed the leader of Fulani bandits arrested in Benue State, Mohammed Isa.
The spokesperson of the group, Emma Powerful, while speaking on the development said IPOB does not spare terrorists.
Powerful, while speaking on what would be the fate of the arrested criminal, said, "We have made it open before now that we don't spare terrorists."
"Mohammed Isa was captured by ESN Northern Command and handed over to God. we handed him over to God, to meet his ancestors."
"It is our resolve that any Fulani terrorists masquerading as herdsmen in our land if we catch you, we send you yo to God Chukwu Okike Abiama to judge you."
"ESN has no power to judge terrorists. Only God has the power to do so, therefore advising them to leave our lands, forests and farmlands."