Boko Haram: Come And Join ESN - Nnamdi Kanu Tells 101 Fleeing Soldiers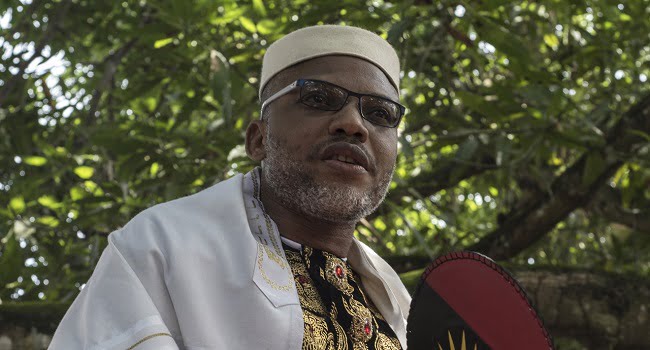 The leader of the Indigenous People of Biafra, Nnamdi Kanu, on Wednesday, called on 101 soldiers who absconded from their duty post following an attack by Boko Haram in Marte and the Dikwa local government area of Borno State to join the Eastern Security Network.
Kanu noted that the door of the security outfit is open to the soldiers who are leaving the military and the army had ordered for their arrest.
The IPOB leader further stated during a live broadcast on Wednesday, that gunmen who were burning police stations were "avenging for us."
Kanu said, "Sometimes I wonder, how can you come from the East, West and Middle Belt, and you are in the army? And they used you to go and fight the bandits so that you can be killed."
"Today, soldiers are leaving and they have ordered for their arrest for leaving the army. And I am telling all these soldiers to go and join the Eastern Security Network. Today, we have all these unknown gunmen; they have been avenging for us and if you come and kill us, they will avenge for us."
A related development, the Nigerian Army authority has released names of officers and gallant soldiers who deserted the war front in Borno State.
Naija News had reported earlier that the Army declared 12 officers and 86 soldiers missing following an attack by Boko Haram insurgents on Marte and Dikwa local government areas of Borno.
Source: Naija News