You Inspired Me To Perform In Office, Wike Tells Donald Duke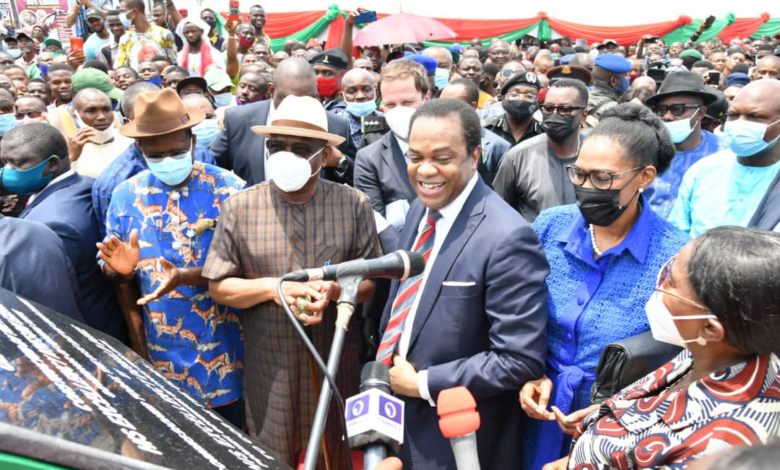 Governor Nyesom Ezenwo Wike of River State has said that former Governor of Cross River, Donald Duke, inspired him to perform in office.
Wike disclosed on Monday at the inauguration of the Okoro-Nu-Odo Flyover, which was performed by the former Cross River governor.
The governor said he invited Duke to inaugurate the project because he also performed very well while in office, describing the ex-governor as a role model and a leader.
He said: "I invited you because I know when you were governor, you performed very well. I will not bring anybody who did not perform in office to come and commission my projects.
"You're our role model. We monitored you while you were in office and to see how you took Cross River from nothing to somewhere.
"Today, people talk of Cross River and carnival, who's the originator? You're the one who did everything to put Cross River on the world map. People should not forget history. Today, you are here to see the little thing we are doing, having emulated what you did."
Speaking further, Wike asked the All Progressives Congress (APC) and other political parties to emulate the Peoples Democratic Party (PDP) in the delivery of democratic dividends to the citizens.
The governor challenged the APC to come out bold to tell Rivers people what they will do differently or had done already to convince the people to believe in them.
He noted that the PDP has done well in the State by fulfilling the promises it made to people of the State and they now know the difference.
Wike said: "I want to thank everybody for your support. Our party is not a party of excuses. When we say something, we do it. Let other parties emulate us. They should not be promising Nigerians and be giving excuses.
"We have promised and we have fulfilled. When they (APC) make a promise they should fulfill it. PDP has done all its campaigns in this state. Let the other parties come to tell us what they will do differently or had done while in office. Time is already gone for them."
Wike noted that the Okoro-Nu-Odo Flyover is among the best projects his administration has delivered because Rivers people deserve the best always.