Abuja Air Crash Victims To Be Buried Thursday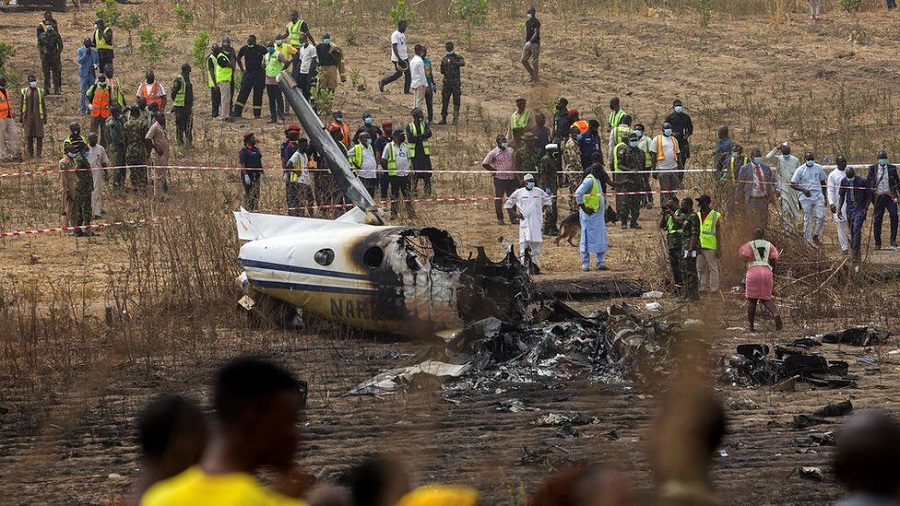 The Nigerian Air Force on Wednesday confirmed that its officers who died in the Sunday air crash will be buried at the National Cemetery, Lugbe, Airport Road, Abuja, on Thursday.
Recall that the Beechcraft King Air B350i which they were flying crashed around Nnamdi Azikiwe International Airport, Abuja, on Sunday after reporting engine failure.
The deceased include the Captain, Fl. Lt. Haruna Gadzama; Fl. Lt. Henry Piyo (Co-Pilot); Flying Officer Micheal Okpara (Airborne Tactical Observation System Specialist); Warrant Officer Bassey Etim (ATOS Specialist); Fl. Sgt. Olasunkanmi Olawunmi (ATOS Specialist); Sgt. Ugochukwu Oluka (ATOS Specialist) and Aircraftman Adewale Johnson (Onboard Technician).
The Governor of Ekiti State, Kayode Fayemi, on Tuesday visited the Ado Ekiti residence of Olawunmi to commiserate with his family.
The widow, Mrs Omolola, recalled the last time she spoke with her husband.
She said, "When I got home on Sunday, I called him that 'dear, we have returned from church,' he said 'we are taking off now, I would call you back when we land.' I am still waiting for that call."
Fayemi, who consoled the widow, led the prayer for protection for the family of the late Olawunmi.
Fayemi said, "We do not want this, we did not pray for this, it is not our desire, it is not our expectation. If this is your wish Lord, we can only pray that you give your children the courage, the fortitude to bear this unfortunate development."