SARS: How My Husband Died In Police Custody Over N200 – Lady Narrates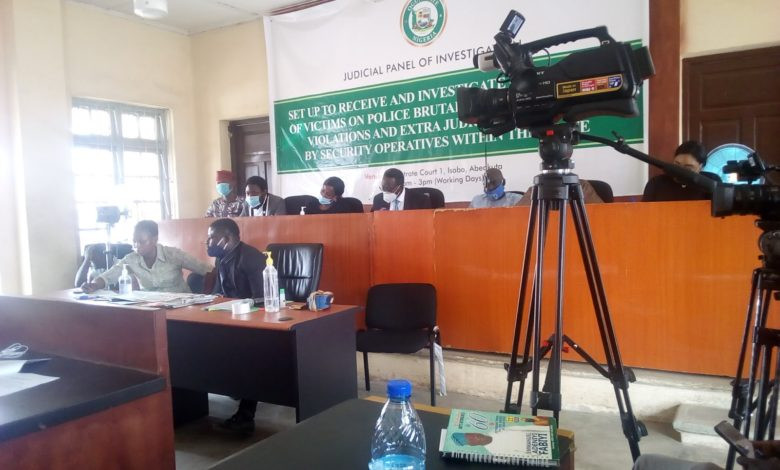 A mother of two in Ogun State has accused some officers of the disbanded Special Anti-Robbery Squad SARS at the Zonal Intervention Squad of killing her husband over N200 voucher.
Recalling the event, Mrs Adebimpe Sobowale while appearing before the Ogun State Panel of Inquiry on police brutality and human rights violations on Tuesday, January 19, said the father of her children died after spending many hours in the police cell.
According to her, the incident happened at the police station in Odeda area of the state over an N200 recharge card.
Mrs Sobowale revealed that the faction of the police force arrested her on Feb. 8, 2020, and locked her up at the cell in the station, alleging that her SIM card was used to carry out a dubious act.
She narrated: "They used the thing, which was plugged to an electric socket, to shock me, and asked me to write whatever they dictated to me as a statement. They said I belonged to a gang of fraudsters. They said my sim card was used to collect N200 recharge. They said they tracked it at Zain (Airtel) office and it brought my picture."
The mother of two told the panel that she was set free two days later after several confessions insisting on her innocence.  She said: "I told them I don't know what they were talking about and I refused to implicate myself in the statement. They arrested my husband on Feb. 10 and released me the next day."
Speaking on her husband's death, Sobowale told the panel that that was the last time she ever saw her husband. She said she was later informed a few days later that her husband has passed away.
"Some days later, I was informed that my husband had died in detention," she said.
Confirming the identity of the police officers who arrested her, Sobowale said she could only identify two of the SARS operatives. She disclosed the name of one of the officers as Inspector Apiah Moses.
The case was, however, adjourned to February 4 while the respondents were asked to produce Inspector Apiah Moses, who is the Investigating Police Officer (IPO) in the case.
In another news, Naija News reports that one Mr David Mluli, a Tanzanian, has been confirmed dead after many rounds of sex with a middle-aged lady.