20 Kwara Doctors Test Positive For COVID-19 Within Three Weeks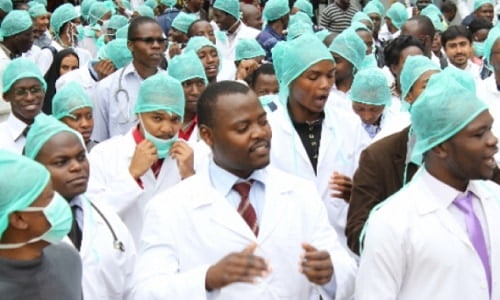 The President, University of Ilorin Teaching Hospital (UITH) Association of Resident Doctors (ARD), Badmus Habeeb, has disclosed that twenty doctors at UITH contracted COVID-19 within three weeks.
According to NAN, Habeeb advised Nigerians to keep safe and follow COVID-19 guidelines laid by the presidential task force.
Speaking on Wednesday, he said: "About 20 of our members have been infected with the virus in the past two to three weeks. I must reiterate that this is not the best of times for us, our families and the affected patients.
"There is poor resource setting in the country, where basic necessities to make the rollout of the COVID-19 vaccines easy and possible, are not readily available.
"So, it, therefore, seems we may never be able to get the vaccine anytime soon. Base on available evidence COVID-19 vaccine is effective and there is no reason why Nigerians should not follow the guide of scientific evidence, especially with proper information."
Nigeria's Centre for Disease Control (NCDC) on Tuesday reported 1270 new cases of the novel coronavirus (COVID-19) in Nigeria.
The newly reported cases bring the total number of confirmed COVID-19 cases in Nigeria to 102,601 which includes 81,574 discharged cases and 1,373 deaths.
Below is the breakdown of the latest cases according to states with Lagos State having the highest number of cases followed by Abuja, the Federal Capital Territory (FCT).
Lagos-435 FCT-234 Oyo-103 Plateau-86 Rivers-71 Enugu-51 Nasarawa-41 Delta-39 Edo-39 Osun-33 Niger-31 Sokoto-23 Ondo-16 Taraba-13 Ebonyi-12 Kano-10 Abia-9 Bayelsa-8 Bauchi-7 Imo-5 Katsina-3 Gombe-1