'Nigeria Will Break': 'Prophet' Gani Adams Reveals 2021 Prophecy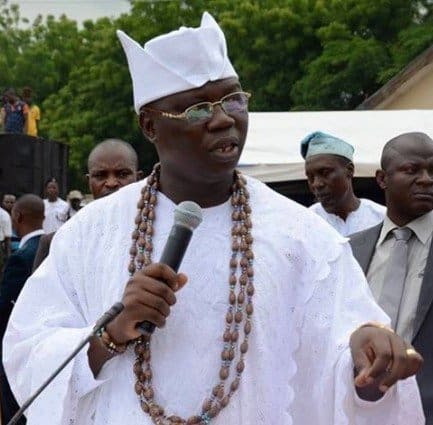 The Aare Ona Kakanfo of Yorubaland, Iba Gani Adams has warned that Nigeria will break up within three years if the country does not return to true federalism.
Naija News reports the leader of the Oodua Peoples Congress (OPC) revealed this in his 2021 'Vision' From God.
He said the current situation where the federal government allegedly favours some regions, while ignoring the interests and necessities of other regions, would lead to the breakup.
In an interview posted on his Instagram page on Sunday, Gani Adams said: "Before I became the Aare Ona Kakanfo, I don't do anything without spiritual investigation. Quote me, Nigeria will not move forward if we don't go back to true federalism or regionalism. If we don't go back to regionalism within three years, Nigeria will break."
Citing cases of favouritism by the federal government, the Aare OnaKakanfo pointed out that the government paid a ransom to bandits to rescue of over 300 schoolboys kidnapped from a government secondary school in the northern Nigerian state of Katsina but the traditional ruler of Ifon in the southern state of Ondo, Oba Israel Adeusi, who was the Olufon of Ifon, was killed by unknown gunmen and "nothing" was done about it.
He said, "344 students (Kankara schoolboys) were kidnapped, we now paid the ransom for each one. A PhD holder was killed in Igangan, an Oba was killed in ifon, but nothing happened.
"Our policing is supposed to be in four layers – federal police, regional police, state police and local government police. [But] we've remained as one layer of policing and that's the problem.
"Unfortunately, few elites in Nigeria do not want Nigeria to return back to regionalism."
Download NAIJA NEWS app: