Dino Melaye Warns Buhari Against Arresting, Embarrassing Bishop Kukah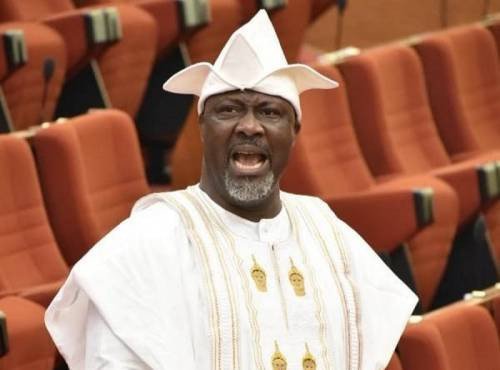 Former Senator representing Kogi West in the National Assembly, Dino Melaye, has warned the President Muhammadu Buhari administration against arresting the Bishop of Sokoto Catholic Diocese, Mathew Kukah.
Naija News reports that the Catholic Bishop of Sokoto Diocese while delivering his Christmas message accused President Buhari of nepotism and incompetence.
He also faulted the Nigerian leader for failing to solve the insecurity situation in the country. The clergyman opined that all that Buhari has done would have led to a coup had it been he was not from the north.
Kukah had said: "President Buhari deliberately sacrificed the dreams of those who voted for him to what seemed like a programme to stratify and institutionalise northern hegemony. He has pursued this self-defeating and alienating policy at the expense of greater national cohesion.
"There would have been a military coup a long time ago or we would have been at war. The President may have concluded that Christians will do nothing and will live with these actions."
Reacting to Kukah's statement, the presidency had accused the Bishop of stylishly calling for a violent ouster of the President Buhari administration.
Also reacting, the Muslim Right Concern (MURIC) while accusing Kukah of being a first-class blackmailer, claimed that the Bishop called Islam a violent religion.
In a post on his Twitter page, Senator Dino Melaye stated that any plan to embarrass Kukah will not be tolerated.
He wrote: "Arrest or try to embarrass Bishop Kukah and we will prove to you that Government is not owned by you but the people.
"They want to scare everybody. Kill fear and speak the truth to power."