Residents Cautioned As Tanker Exploded On Magboro Bridge In Lagos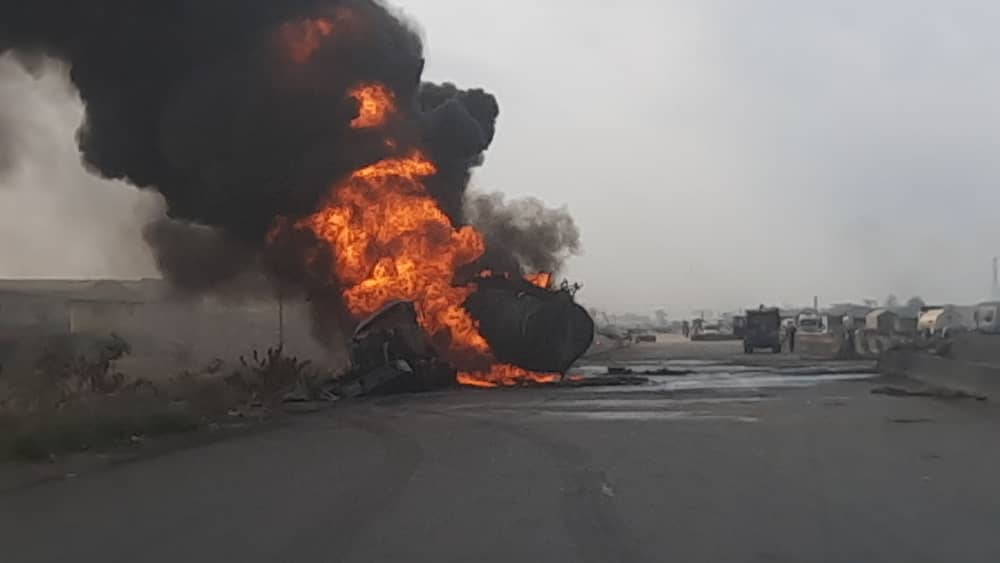 It was reported of a roadblock on Wednesday morning, December 2, along the Lagos Ibadan expressway as a result of a tanker explosion at the Magboro bridge.
Naija News understands that the incident happened on the bridge which is located at the outward of Lagos State. It was reported that the fuel from the exploded tanker, spilt over to the other side of the expressway, leading inward to Lagos.
However, firefighters arrived at the scene to put out the flaring flame a few moments after report of the incident reached their office.
Residents playing the road have been advised to take alternate routes or cancel their trips until the road is cleared for use.
Watch some videos from the incident below;
"@followlastma: @LAG_FireService on ground to put out the fire earlier reported on Magboro Bridge.@Gidi_Traffic pic.twitter.com/OeWXuDoEjm

— GIDITRAFFIC (@Gidi_Traffic) December 2, 2020
[10:02AM] @AkinwandeFaith3: Burning Tanker on Magboro bridge, Lagos-Ibadan Expressway.

Kindly avoid this road for now. The traffic is mad.
pic.twitter.com/VbClgyv6E1 #TrafficChief

— #LagosTrafficReports (@TrafficChiefNG) December 2, 2020
[9:01am] #TrafficRadioUpdates#AskLTR #ForAGreaterLagos #SolvingLagosTraffic
*UPDATE ON THE BURNT TANKER ON MAGBORO BRIDGE*
The fire has been successfully extinguished with a joint effort of the fire service, Julius Berger and other back up agencies. pic.twitter.com/W92fWYwnbK

— @lagostrafficupdate (@lagostrafficup1) December 2, 2020
In another news, a resident of Lagos identified as Marc Chidebere Nwadi has narrated how the police detained and tortured him, just some hours after he arrived at the state from the south-east in 1999, Naija News reports.
Download NAIJA NEWS app: